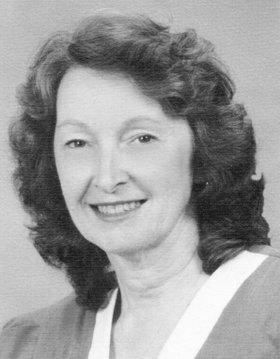 Mamie Bleau
unknown - unknown

SELKIRK – Mamie Jacqueline Bleau, 79, of Selkirk, lost her battle with Alzheimer's disease and died peacefully at home on Monday, September 17, 2012 with her husband Olin O. Bleau by her side.

Jackie was the mother of five children, Alva Bleau (Lori) of Tupper Lake, NY; Martha Elmore (Raymond) of Lyons, NY; Olin T. Bleau of Selkirk; Nancy Sill (Francis) of Selkirk; and Jacqueline Spencer (John) of East Greenbush. She is also survived by 20 grandchildren and 28 great grandchildren.
Jackie was born in Freehold, NY on May 28, 1933, the daughter of the late Robert L. and Phebe Whitbeck. She was raised in Ravena with her brother and four sisters; Robert L. Whitbeck II (Alice) of Coeymans Hollow; the late Marilyn Anderson (the late John) of Ravena; Dorthea Backlund (the late Nils) of New Baltimore; Phebe Archibald (the late David) of Guilderland and Aleta Lyon (William) of Westerlo. Several nieces and nephews also survive.
Jackie graduated from Ravena High School as the class Salutatorian in 1950. She worked as a retail clerk for Woolworth's Co. in Albany, a keypunch operator at NY Cental Selkirk Rail Yard and was one of the first women to work on the rail yard HUMP. Later Jackie and Olin had their own towing business. She was the bookkeeper and Olin ran the two trucks. Jackie was the woman behind the man, gently pushing Olin to start a statewide towing agency to help the tow truck operators. Empire State Towing and Recovery Association (ESTRA) began in 1980.
Jackie loved her husband, their children, grandchildren, and great grandchildren. She enjoyed sewing, knitting, gardening, camping, boating, and cross country skiing. She was actively involved in the Boy Scouts and Girl Scouts with her children. Jackie was active at the First Reformed Church of Bethlehem for many years and then became involved with the Bethlehem Lutheran Church. The family would like to thank Community Hospice of Albany for their help the last few years, her aide Karina and her nurse Sheila. Special thanks to Debbie Grant, Jenny Lauder, Constance Sill, Mary Bleau, Robin Bouchard, Amanda Desnoyers and all who have helped with Jackie's care throughout her struggle with Alzheimer's.

Relatives and friends are invited to call on Friday, September 21 from 4 to 7 pm at the Bethlehem Lutheran Church, 85 Elm Ave., Delmar. A funeral service will be held 10 am Saturday, September 22 at the church. Burial will be in Elmwood Cemetery, Selkirk. Rather than sending flowers, the family prefers that donations be made to the Breast Cancer Society of Albany, Alzheimer's Association of NENY, Community Hospice of Albany or the Bethlehem Lutheran Church.
www.applebeefuneralhome.com