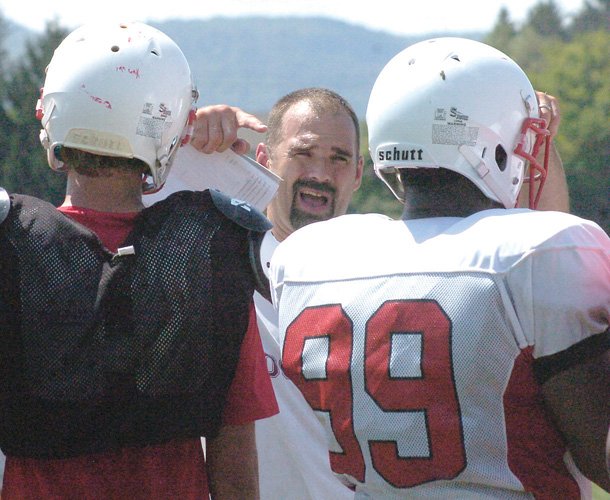 GUILDERLAND — Expectations are different for the Guilderland football program.
Last year's Section 2 Class AA title contenders are now hoping to make the playoffs following the graduation of most of their starters, including quarterback Frank Gallo, wide receiver Jake Smith and running backs Micaiah Henningham and Joseph Cornell.
"You can never truly replace guys with multiple years of experience and have played at a high level," said Guilderland coach Dan Penna. "You can only ask for young guys who are excited to be here and ready to learn."
What Guilderland has left over from last year's team that reached the Sectional semifinals is a group of role players. Starting quarterback Andrew Sentz was known primarily to Dutchmen fans as the team's placekicker in 2013. Tailback Ryan Gallup played behind Henningham and Cornell. Andy Hines and Tim Pasquini were part of the offensive lineman rotation, but not starters.
"We had some big guns on the offensive line last year (who have since graduated), but our younger guys were key role players," said Penna.
Even though many of the offensive starters are new this season, Penna said Guilderland won't back off from its fast-paced, no-huddle scheme that helped it become one of the top scoring teams in Class AA.
"We're running our same offensive scheme," said Penna. "We've always felt like we've played our best when we have a balanced attack. And even though we thrived on big plays last year … we want to execute the little things and create longer drives."
Guilderland breaks in its new starting lineup Friday, Sept. 5, when it visits Colonie in a rematch of last year's Sectional quarterfinal that the Dutchmen won 38-35 on Sentz's last-second field goal. Colonie has also undergone significant changes to its team, including the graduation of its top three running backs and the appointment of Eric Rouleau to replace Bill Roemer as head coach after Roemer's teaching position was eliminated in a budget cut this past spring.
(Continued on Next Page)
Prev Next
Vote on this Story by clicking on the Icon