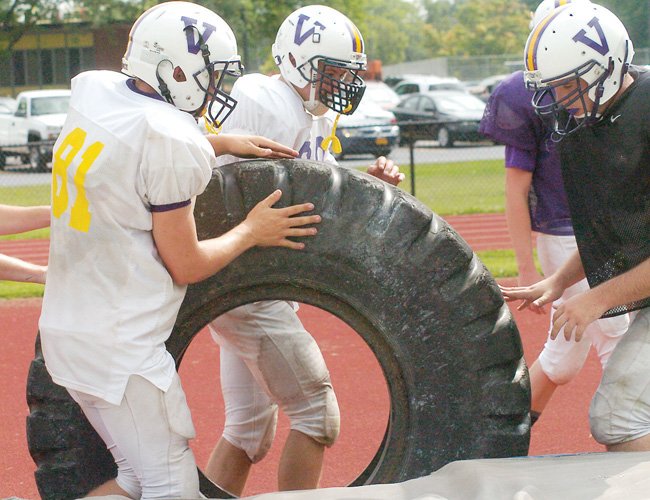 VOORHEESVILLE — Will experience lead to wisdom?
That's the question at Voorheesville, where 18 seniors return to the varsity football team this season.
"It's very rare in a small school situation to have 18 seniors, and the bulk of that group have been contributing in some way to the varsity level since ninth or 10th grade," said Voorheesville coach Joe Sapienza.
The Blackbirds had issues with mental mistakes last year, as penalties and turnovers cropped up during a 4-4 season. It was most noticeable in Voorheesville's 39-19 loss to Corinth in the Section 2 Class C quarterfinals, as a series of turnovers helped Corinth jump out to a 24-7 halftime lead.
"Right now, we're working on playing mistake-free, patient offense — taking what other defenses give us," said Sapienza.
Voorheesville's offense has several key skill position players back, including quarterback Robert Denman, tailbacks Matt Feller and Scott Roney and wide receiver Mickey Knight.
"Our offense is going to be unbelievably balanced. We're very strong in all aspects," said Sapienza. "We have two powerful runners in Roney and Feller. Our quarterback can read defenses, so we're going to give him read checks. We have excellent slot receivers.
"We'll be able to do some things that we haven't been able to do (on offense) because they have been in our system for three or four years," he added.
Voorheesville's defense should also be strong with most of last year's starters returning. The issue will be keeping those players healthy, since many of them are two-way starters.
"Last year when we were healthy, we were very good. We had a couple of games where we had key guys out, and that's where we had problems," said Sapienza. "So, we're making certain we have some depth this year. That's where some of our younger guys (six underclassmen) come in."
(Continued on Next Page)
Prev Next
Vote on this Story by clicking on the Icon