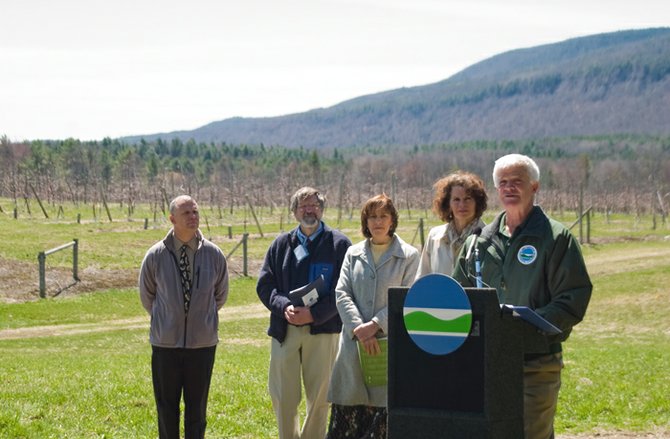 NEW SCOTLAND — Indian Ladder Farms was used as a backdrop and example during the unveiling of Conservation Partnership Program grants totaling $1.4 million statewide.
Department of Environmental Conservation Commissioner Joe Martens on Thursday, April 24, announced the annual conservation grant awardees, which included 50 nonprofit land trusts statewide. The Capital District received 14 grants totaling almost $350,00 to 11 organizations, with the Mohawk Hudson Land Conservancy receiving the most funds at $68,5000 for professional development.
Grants statewide will also tap an additional $1.1 million in private contributions and community support.
Department of Environmental Conservation Commissioner Joe Martens said the grants would be used to protect "some of finest natural landscapes" in the state.
"You are obviously standing on one of them here at the Indian Ladder Farm," Martens said.
Peter Ten Eyck, owner of Indian Ladder Farms, said about a decade ago his family was weighing whether to retire the development rights of the land. Through the help of various organizations, Ten Eyck received $848,000 to sell the development of the 320-acre property.
"A lot of money was raised by more than a thousand people," Ten Eyck said.
Ten Eyck brought his 14-year-old granddaughter with him when he signed over development rights of the land, despite her reluctance to sit with him during the long process.
He said to her, "Some day you are going to be my age, and chances are you might have grandchildren your age, and they are going to ask you why there is this one patch of green that is still left in a giant housing development at the base of the mountain. You can say … 'I was there.'"
Indian Ladder in the Town of New Scotland was the first farm to obtain a state agricultural protection grant ensuing the natural landscape would remain.
Seth McKee, chairman of the Land Trust Alliance's New York Advisory Board and land conservation director for Scenic Hudson, said the farm was a "great example of the value of agricultural lands to the state."
(Continued on Next Page)
Prev Next
Vote on this Story by clicking on the Icon