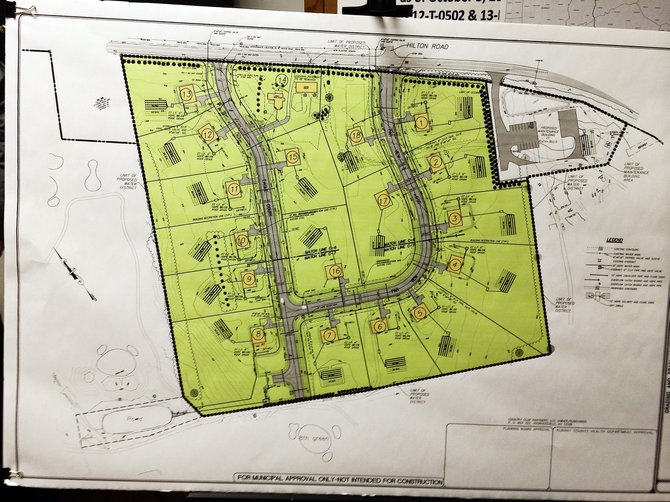 NEW SCOTLAND — In about a year, the future of the historic LeVie barn should be clear, with town officials granted additional time to secure funding for relocation efforts.
The New Scotland Planning Board on Tuesday, March 4, unanimously approved the final plans for an 18-lot residential subdivision on a 22.4-acre property located in an agricultural district off Maple Road. Country Club Partners and the town also agreed to conditions delaying the development of lot 18, with construction moving forward on the remaining 17 lots. The conditions allow local officials more time to secure funding to relocate the LeVie barn within the town.
"The town is very interested in preserving the barn, and the owners are very interested in working with the town," Planning Board Chairman Charles Voss said. "Leaving (lot 18) as the last parcel to be developed allows you to put in your roads and everything else."
The developer is required to offer the barn for free to the town for preservation and relocation efforts. The town would have until Feb. 28, 2015, to notify the property owner it has received a proposal to relocate the barn to another location. Once the owner is notified, the town would have until May 31, 2015, to deconstruct and relocate the barn.
If the town were unable to relocate the barn, then the property owner would be allowed to demolish or deconstruct the barn without any conditions.
"The May 31 date … there is nothing magical about it. If somebody really had a deal there and they had to take it out on June 30, there is no real problem," Daniel Hershberg, the attorney representing the property owner, said. "Our goal here is to move it along so that we can get this project moving along."
The property owner and town officials are looking to give "first dibs" to someone within the town looking to relocate the barn, but the building could be moved further away if a local home isn't found.
(Continued on Next Page)
Prev Next
Vote on this Story by clicking on the Icon