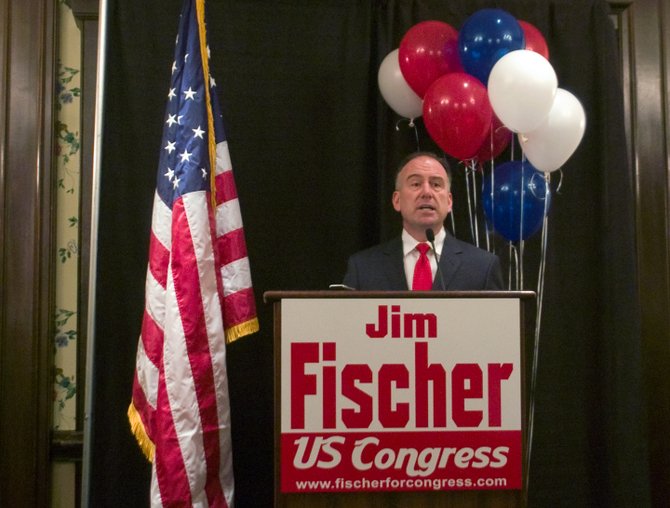 ALBANY — Area Republicans rallied behind congressional hopeful Jim Fischer during a campaign kickoff jokingly referred to as the end of an era for Rep. Paul Tonko.
"I hope you all understand why you're here. … This is the planning group for Paul Tonko's retirement party," Jim Buhrmaster, chairman of the Schenectady County Republican Committee, said, which drew laughter and applause from those in attendance.
Fischer, a Ballston Spa resident, was joined by his wife and four children for his formal campaign kickoff Tuesday, March 11. He has already secured endorsements from all the county GOP committees within the congressional district.
Fischer said he was "tremendously grateful" and humbled to announce his candidacy.
"I've decided that I need to shake off the apathy and cynicism that has kept me from getting politically involved before now and to have faith that one person can make a difference," Fischer said. "I'm asking you to have that same faith that you can make a difference and that together we can make a change for our country and for our friends and neighbors back at home."
Most of Tonko's previous challengers were gathered at the event, with Buhrmaster having made a run against Tonko in 2008 for the then open seat. Ted Danz ran against Tonko two years later, and the most recent challenger was Bob Dieterich. Republicans are hoping the votes will swing in their favor during the party's fourth run against the Democratic congressman.
Fischer said the "big government agenda" in recent years has "stifled the economic recovery, undermined opportunity for working people to get good paying jobs and restricted constitutional freedoms to all Americans."
He added the "political pendulum" has gone too far to the left and must be brought back to the center. He dubbed Tonko as a "reliable, progressive rubber stamp" on issues.
(Continued on Next Page)
Prev Next
Vote on this Story by clicking on the Icon