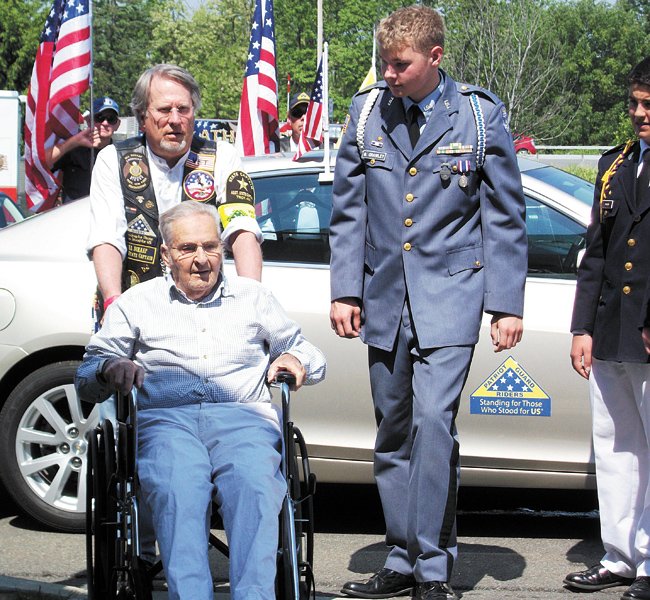 DELMAR — After a couple years of relative inactivity, the area's Patriot Flight program is readying to take World War II veterans to Washington, D.C., and commemorate D-Day's 70th anniversary.
Bill Peak, a Brunswick resident and WWII veteran, founded the local Patriot Flight program in 2007 covering several counties in the Capital District. Peak said the idea to start up the program was spurred after reading about a local state Assembly member traveling to the National World War II Memorial. Peak decided he should take the trip and eventually found out about Honor Flights taking veterans to the memorial honoring their service.
"I didn't want to go alone, so I thought I'll take some veterans with me," Peak said. "I went to a seminar in Washington, and I was the only WWII veteran that started an Honor Flight hub."
Many WWII veterans passed away before the memorial opened in 2004, but Peak was determined to help as many fellow veterans get to the memorial as he could. Organizing and running the Patriot Flight program isn't an easy feat, though, and Peak, an 89-year-old, stopped running it around two years ago due to health problems.
Frank DeSorbo, founder and president of the D-Day Revisited Association, discovered the area Patriot Flight program wasn't active anymore and wanted to find out what happened. DeSorbo, of Delmar, ended up talking with Peak for three and a half hours one day and decided he wanted to help relaunch the program.
"I sit back and I think these guys are living history," DeSorbo said. "I watch the Military Channel a lot and read the articles in the newspaper, and they deserve the recognition while they are here."
DeSorbo was already planning the fourth annual D-Day Recognition & Remembrance Day to be held June 1 and said the Patriot Flight this year will have the theme "D-Day goes to D.C."
(Continued on Next Page)
Prev Next
Vote on this Story by clicking on the Icon