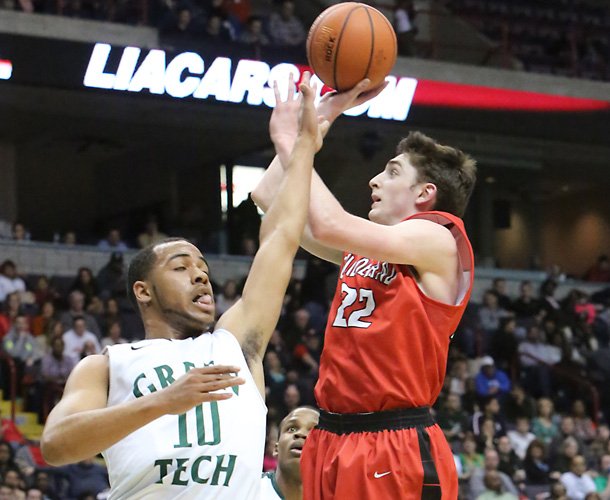 ALBANY — It's a shot Jamil Hood Jr. practices all the time, and it's highly effective.
The Long Island University-bound senior guard hit a fadeaway three pointer with 38 seconds left in the fourth quarter to help Green Tech pull away from Guilderland for a 65-56 victory in Monday's Section II Class AA boys basketball championship game at the Times Union Center.
"He works on that shot right there repeatedly," said his father and Green Tech coach Jamil Hood Sr. "I'm telling you, he puts in the work."
With Green Tech (15-5) clinging to a 58-56 lead, Hood Jr. waited for the right moment to take his shot.
"I had to stay calm," said Hood Jr. "I didn't even pay attention to the crowd. I just focused on the shot."
Hood Jr.'s three-pointer began a game-closing 7-0 run for the Eagles that ended Guilderland's bid to become the first Suburban Council school to win the Class AA title.
"We didn't back down. We challenged them the whole game," said Guilderland coach Ron Osinski.
Green Tech threatened to run away and hide when it opened the second quarter on a 13-4 run. Hood Jr. led the charge with a pair of baskets, and Isiah Dobhere went 4-for-4 from the foul line during the spurt.
Guilderland slowly clawed its way back into the game. A Vincent Simeone three-pointer and layups by Andrew Platek and Billy Floyd trimmed the deficit to 34-32 late in the second quarter. The Dutchmen stayed within five points of Green Tech through the third quarter and grabbed a 52-50 lead on Platek's second three-pointer of the game early in the fourth quarter.
Green Tech center Ramion Burt evened the score at 52-52 with a power move near the basket. Then, Hood Jr. drilled a three-pointer from the top of the key with 4:08 left in regulation to give the Eagles the lead -- one they didn't relinquish the rest of the night.
(Continued on Next Page)
Prev Next
Vote on this Story by clicking on the Icon