Jason Brinkman
Vice President and General Manager, Albany Dutchmen
• Hometown: Guilderland
• Current home: Saratoga Springs
What are you listening to these days?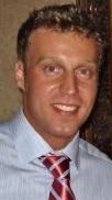 I listen to a lot of country music. Looking forward to seeing a lot of the country music concerts at SPAC this summer.
What have you been watching on TV?
I've definitely been watching a lot of the College World Series on TV. As far as regular TV shows … Definitely I like to watch "Shark Tank" when I can. "The Good Wife" and "Shameless" … kind of a pretty big mix of genres there.
What's the last movie you went to?
"Wolf of Wall Street."
What have you been reading?
I'm reading "Money Ball" right now. I've watched the movie and enjoyed it, and somebody recently gave me the book.
What would your last meal be?
I'm pretty boring with this because I usually try to eat healthy. I would say probably lobster and no-bake cookies for dessert.
Who would you most like to meet, living or dead?
Probably Warren Buffett. He's been extremely successful in business, and he seems like he's really down to earth. He just seems like a normal guy.
What are some of your hobbies?
I definitely like to play golf. Definitely don't get much of an opportunity to play once baseball season begins, but when the weather first turns nice, I try to go whenever I can. I also go to country music concerts, and I go to the track (Saratoga Race Course) when that opens up. I watch and attend University of Michigan sporting events — my alma mater and I'm a diehard fan.
What is something about you that would surprise people to learn?
I have visited almost every state in the United States.
Vote on this Story by clicking on the Icon