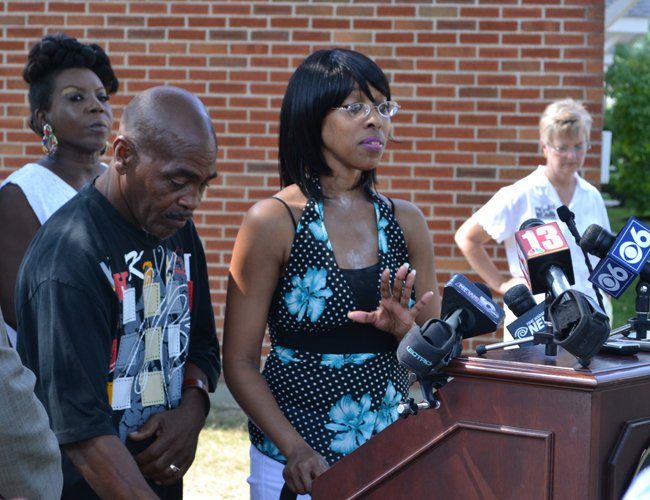 ALBANY — As the smell of oil permeated the air and the rumble of oil trains being jerked into motion echoed in the background, residents of public housing in Albany gathered to hear officials ask for more regulations of the transportation of volatile oil.
On Wednesday, July 23, at the Ezra Prentice homes, County Executive Dan McCoy and other officials asked to relocate the people of Ezra Prentice and called for tougher regulations on the oil trains that run through their backyard.
McCoy proposed legislation that would impose civil and criminal sanctions on railroad operators who fail to report oil spills in Albany within 30 minutes.

"What really bothered me was a couple weeks ago when they had that recent spill. First, they said it was five gallons. Then, they said it was it 100 gallons. Then, they said all of our safety mechanisms worked. Well if it was such a negative thing and they turned it into a positive situation, why didn't they invite us to come down?" said McCoy.
In June, oil spilled from a rail car vent when the car was stationary, and Global Partners did not quickly report the event. Global Partners is the company that is responsible for operating the terminal in Albany. In another event, a derailment was not reported for five hours. State law requires derailments to be reported within an hour. As a result, Global was fined $5,000.
For a company that made over $300 million in profits in the second quarter, McCoy said he doesn't think the fine is steep enough. He wants to increase the fine to $250,000 and add the possibility of jail time for not reporting incidents.
"Right now, the legal limit is $5,000. Though it's a lot of money to me, and it's probably a lot to you out there, but to a company like Global that made over $340 million in profit in the first quarter alone this year, you think $5,000 means a lot to them?" said McCoy.
(Continued on Next Page)
Prev Next
Vote on this Story by clicking on the Icon