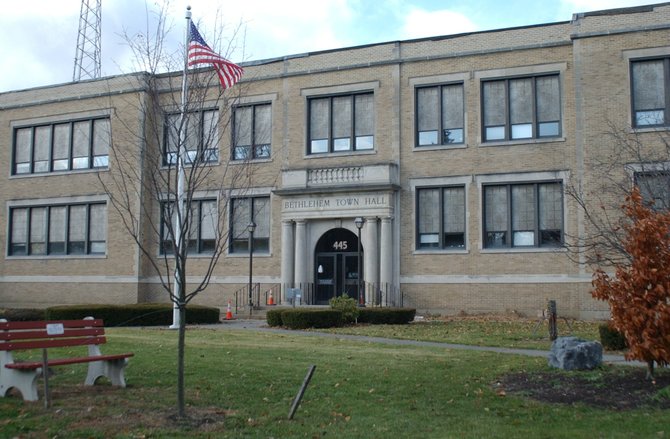 BETHLEHEM — Former Bethlehem police officer Christopher Hughes will finally get his day in court.
The Town of Bethlehem has lost its request to dismiss a civil lawsuit first filed by Hughes in 2010. The lawsuit, which was filed against the town and Police Chief Louis Corsi, accuses the police department of retaliating against Hughes and violating his First Amendment rights when he spoke out against what he said were problems within the department.
In March 2013, Chief Judge Gary Sharp of the New York State Court of Appeals denied the town's motion for summary judgment, and on March 24 of this year the United States Court of Appeals for the Second Circuit upheld the decision, concluding there were issues of fact to be decided by a jury. A trial date is set for the first week in January 2015.
In its ruling, the Second Circuit Court of Appeals said "Hughes has at least provisionally made a sufficient showing that Corsi violated his First Amendment rights to justify the court's denial of the defendant's motion to dismiss the action."
During his time on the force, Hughes was brought up on two sets of disciplinary charges. Those charges were later dismissed through arbitration. But in his lawsuit, Hughes claims a sergeant on the police force said he would be passed over for a K-9 handler position because of his involvement in the police union's collective bargaining negotiations with the town. The sergeant who provided the information was Hughes' brother.
The suit specifically accuses Corsi of retaliating against Hughes for his involvement in the police union and also for going to town administration and the press with allegations Corsi had uttered a racial slur on a taped phone conversation from his office. That tape was later found, and Corsi was issued a 10-day suspension without pay.
(Continued on Next Page)
Prev Next
Vote on this Story by clicking on the Icon