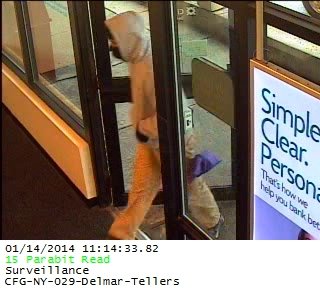 BETHLEHEM — Police are investigating an armed robbery that occurred Tuesday morning at the Citizens Bank at 180 Delaware Ave. in Delmar.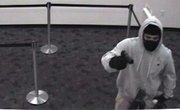 At about 11 a.m. this morning, Bethlehem police received a call reporting the robbery. The suspect, allegedly armed with a handgun, approached the teller and demanded money, according to police. After the teller complied with the demand, the suspect allegedly fled out the front door with an undisclosed amount of cash.
Police said the suspect was last seen fleeing in a gray or silver passenger vehicle with New York plates. Prior to leaving the parking lot, a red dye pack exploded within the suspect's vehicle. No physical injuries were reported.
The suspect is described as a white male, 18-25 years of age, wearing a light grey Champion hooded sweatshirt, tan cargo style pants, black knit hat/mask, approximately 5'11" to 6'.
The State Police K9 Unit and Albany County Sheriff's Department assisted at the scene. The Bethlehem Police Department continues to follow up on several leads and is asking anyone that may have been in the area or has information on this robbery to call 439-9973.
Vote on this Story by clicking on the Icon