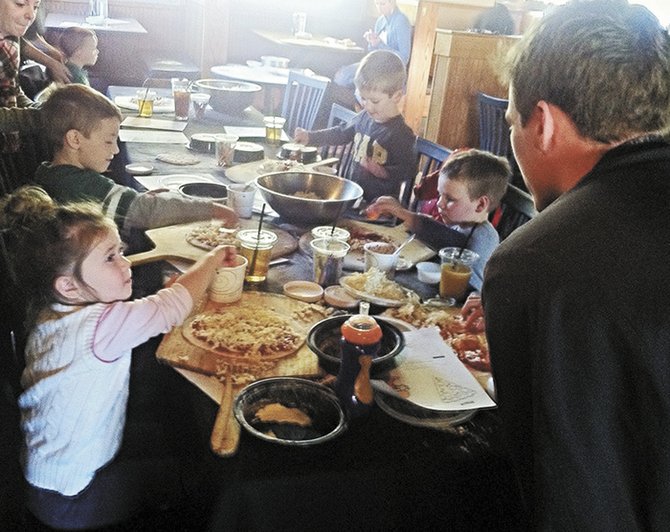 Pizza night is always a fun treat for the family, but deciding what type of pizza to order can be tricky if one has younger children who are picky eaters.
One area restaurant is now looking to show families the magic behind the pizza delivery guy by allowing kids into the kitchen to make their own pies. Mangia in Slingerlands began offering the children's courses in December.
Marshall Morgan, Mangia's general manager, said the idea first came from a member of his waitstaff.
"All kids like pizza. This is something that can teach them independence and allows them to take on a more adult role."

— Marshall Morgan, Mangia's general manager
"One of our servers here had a young daughter, and they did a make-your-own pizza night at home," said Morgan. "They brought the idea to us, and I didn't see why we couldn't do it. We have all the right equipment."
Mangia has a variety of pizzas on the restaurant's menu and pizza makers who are skilled enough to pass their knowledge onto the area's future chefs. The class is taught by Jeff Touchette, Mangia's head pizza maker. He is known to the kids as "Chef Jeff."
Morgan said the class is very interactive, with Touchette teaching the kids pizza facts and showing off some of his tossing skills. About 20 children had signed up to take each of the two previous classes. There is no age restriction for taking the class, but each child must be accompanied by a parent.
During the class, kids are taught how to make their own pizzas, complete with demonstrations and Mangia's special tips for making the perfect pie. Depending on the age of the child, parents can help, but during the wait they are also served a lunch buffet.
Each child leaves the class with the pie they created and a pizza-making kit. The kit includes dough, sauce, a bag of cheese and instructions.
(Continued on Next Page)
Prev Next
Vote on this Story by clicking on the Icon