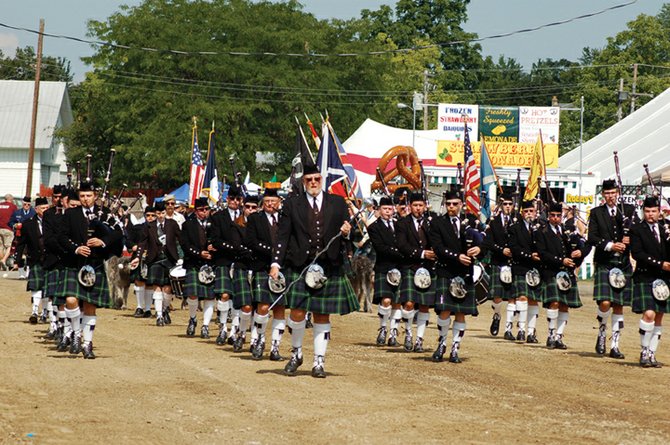 ALTAMONT — A little corner of Altamont will be filled with all things Scottish when the sound of bagpipes and the site of cabers flying through the air take over the Altamont Fairgrounds on Labor Day weekend.
IF YOU GO
• What: Scottish Games
• When: Saturday, Aug. 30, and Sunday, Aug. 31; gates open at 8 a.m. Saturday and 10 a.m. Sunday
• Where: Altamont Fairgrounds, 129 Grand St., Altamont
• How much: Saturday: $22, Sunday: $12; children 12 and under free
• Info: scotgames.com
Drawing crowds of thousands, the Scottish Games have been a late summer tradition in the Capital District since 1939. Bill Munro, a piper in the Schenectady Pipe Band, recalls how it all began.
"It was more like a picnic for a bunch of Scots, mostly who worked at GE, at a park in Scotia," he said. "At that time, they were presented by a Scottish Clan MacRae. They ran the games until 1967."
In 1978, the Schenectady Pipe Band reestablished the Capital District Scottish Games. Now one of the largest events in the country, the games draw more than 40 bands and 15,000 visitors.
The Scottish games are based on the games of skill that were — and still are — held during clan gatherings in the Highlands of Scotland.
"When we started in 1978, we were kind of expecting a crowd of what they got in 1967 — about 3,000 or 4,000 people," Munro said. "The first time we had 8,000 people, and now as many as 16,000, depending on the weather."
The games have grown to become an annual festival where people of Gaelic descent can proudly display their culture, traditions and talents. However, Munro lets it be known that "you don't have to be Scottish to come."
"My favorite part are the mass bands where all the pipers play together," Munro said. "About 500 pipers and drummers all play at the same time."
(Continued on Next Page)
Prev Next
Vote on this Story by clicking on the Icon