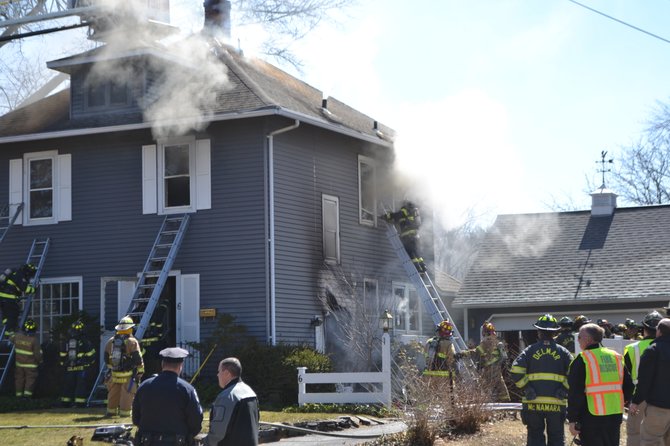 BETHLEHEM — Local fire companies responded to a mid-day blaze that caused severe damage to a home at 6 Adams Place in Delmar.
Neighbors said the homeowners were spending the winter in Florida and were not at home when the fire broke out. The fire was first spotted by a woman walking her dog around 11 a.m.
Delmar Fire Chief Dan Ryan Jr. said it looked as if the fire had gone on for some time before anyone was able to call for help. Firefighters responded to the scene about 15 minutes after the initial call.
"Upon arrival we had heavy fire on the right-hand side of the building," said Ryan.
According to Ryan, access to the home was compromised because of damage to the indoor staircase, and part of the second floor had collapsed. Entry was made to the home from ladders to the second floor. Fire officials used a saw to cut holes in the roof and cut a whole in the side of the home to gain access to flames in the walls.
Ryan said the cause of the fire is still being investigated. He also said the home looked to be a complete loss.
"It's up to the insurance company whether they will rehab it or tear it down," said Ryan.
Delmar, Elsmere, Slingerlands and Selkirk fire departments all responded, with neighboring fire squads on standby.
Vote on this Story by clicking on the Icon