GUILDERLAND — Many in the Capital District may be surprised to learn about number of authors in their midst. A neighbor, coworker or acquaintance could be published, with those around them none the wiser.
The Guilderland Public Library is looking to change that with its first Local Author Book Fair. Published writers from throughout Albany County have been invited to participate so as to highlight "the author next door."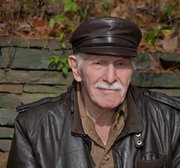 "I'd done a similar event at another library and it's a great way to promote local authors because it's a great venue to promote their books," said Natalie McDonough, who is in charge of programming and public services for the library.
Nearly 20 authors have signed up to participate in the event. The keynote speech is to be given by New York Times bestselling author Joseph E. Persico of Guilderland.
Persico was the speechwriter for former Vice President Nelson Rockefeller and the author of 12 nonfiction books. His latest is called "Roosevelt's Centurions: FDR and the Commanders He Led to Victory in World War II." Persico's talk will be followed by a short question and answer period, and books will be available for purchase.
The rest of the event will be run like a typical book fair, with tables set up throughout the library so visitors will be able to speak with authors in person, purchase their books or get books signed.
"We're really pleased with the amount of authors who responded to our request," said Mark Curiale, the library's public information officer. "I think it might come as a surprise that there are so many published authors in the area."
The event will feature writers who were both self-published and had their work picked up by traditional publishers.
McDonough said visitors typically like the one-on-one time they are able to get with authors at the event. Also, if they like a book they see, there isn't pressure to purchase the book like there might be at similar events. Because they are already at the library, visitors can simply add those books to their request lists.
(Continued on Next Page)
Prev Next
Vote on this Story by clicking on the Icon