VOORHEESVILLE — Voorheesville High School desperately needs a reconstructed, modern roof, according to district officials, and technology upgrades at all its buildings to prepare for the planned shift to computer-based testing and evaluations.
The first phase of many likely capital projects at Voorheesville schools was unveiled during a special Board of Education meeting Monday, Oct. 7. District voters will ultimately have the final word on the proposed $2.7 million project through a permissive referendum tentatively scheduled for Dec. 17.
Document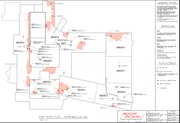 District officials and board members stressed the proposal was scaled back from the original plan, which totaled more than $11.48 million.
"This is a significant pull back from where we started," board member James Coffin said.
Fellow board member Gary A. Hubert said the scaled back project is the "absolute bare minimum" that must be done to properly maintain facilities.
"The weakened roof puts in jeopardy the interior structure of the building," Hubert said. "It has to be done in order to avoid even larger costs in the future to repair."
A majority of the project cost is tied to reconstruction of the high school's built-up roof for $2.345 million. The roof would then be under warranty for 30 years. Reconstructing walls above the roof also accounts for $78,000 worth of work. Replacing network switches and adding 60 drops of wireless access totals a cost of $279,500.
Board member Cynthia Monaghan said the limited scope of the project was drawn up to fit what the public could – or rather, would – support.
Superintendent Teresa Thayer Snyder said delaying several improvements and upgrades would allow the district to monitor community demographics and not rack up "massive" debt if there are significantly fewer students.
"One of the issues we are concerned about is we have a declining enrollment. I don't know if this is going to be just a blip or if it is going to be a matter of reality and trend going forward," Snyder said. "As we postpone other elements of the project to a future date, it will give us time to monitor our enrollments."
(Continued on Next Page)
Prev Next
Vote on this Story by clicking on the Icon