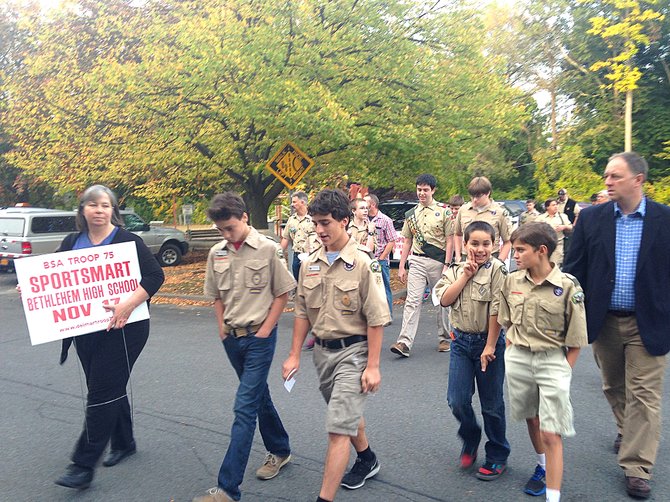 BETHLEHEM — A local Boy Scout troop have become publically critical of the Town of Bethlehem's temporary sign law, saying the rules have made a dent in sales at its annual fundraiser.
Members from Bethlehem Troop 75 said sales for their annual Sportsmart event held each year at Bethlehem High School decreased by 15 percent in 2012. On Wednesday, Oct. 9, Scouts and troop leaders said they believe sales were down because they were unable to advertise along major roadways due to the town's temporary sign law.
"Route 32 is one of our most effective and visible places to put these signs," said Scout Chris Schimdt, adding the troop doesn't want to see sales continue to decrease this year.
The town passed a new sign law in June of 2012 following complaints from some nonprofit groups that their signs were being removed by the town. The old law did not allow for signs to be placed in the right-of-way of any road owned by the town, county or state, but because of vagueness in the wording and poor enforcement, many believed otherwise.
The new version of the law allows temporary signs to be placed on private, non-commercial property at the discretion of the property owner for up to three months. Temporary signs, such as signs advertising community events and political signs, cannot be placed on town-, county- or state-owned roads and can be no larger than 6 square feet. The Town Board also shrank the proposed right-of-way distance in the law for signs on private property from 15 feet to 5 feet.
Councilman Jeffrey Kuhn, who did much of the research into the temporary sign law, along with Town Attorney Jim Potter, attempted to explain the law to the Boy Scouts who attended the Wednesday meeting. He said a large portion of the law remains the same as it has for years, but is now being better enforced to ensure fairness.
(Continued on Next Page)
Prev Next
Vote on this Story by clicking on the Icon