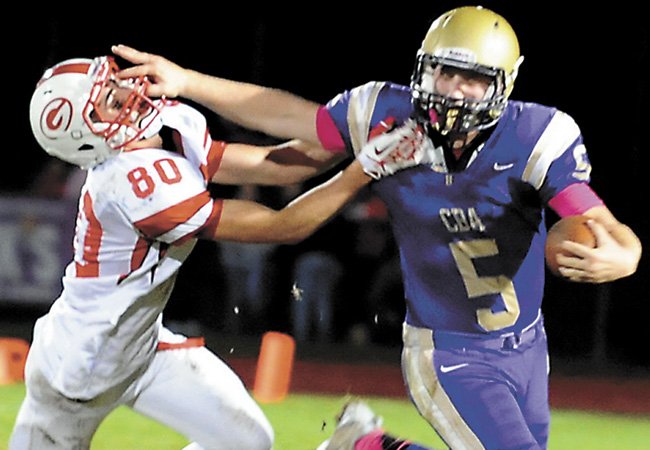 COLONIE — By doing something no one else had managed to do all season, the Christian Brothers Academy football team accomplished something it hadn't done since classification play began in Section II.
The Brothers (6-1 league, 6-1 overall) hammered Guilderland (5-1, 6-1) 40-6 Friday, Oct. 11, in Colonie to clinch their first Empire Division title.
"This school hasn't gotten a division title in a long time," said CBA senior running back Elliot Croskey.
Saratoga Springs (5-1, 6-1) helped CBA lock up first place by knocking off Shenendehowa 33-6 last Friday. Shen (3-2, 4-2) was the only team that could have denied CBA the division title in a head-to-head tiebreaker, thanks to a 35-21 victory over the Brothers in Week 2. CBA owns a 34-21 win over Saratoga and now a 34-point victory over Guilderland.
To beat Guilderland convincingly, CBA blitzed Dutchmen quarterback Frank Gallo early and often. The Brothers sacked Gallo six times in the first half, one of which resulted in a fumble that led to the second of CBA's four scoring drives before halftime.
"Our defense was awesome all night," said CBA coach Joe Burke. "It just felt like (Guilderland) didn't get a whole lot of yards."
"Credit their defensive line. They have a fast defensive line," said Guilderland coach Dan Penna. "It's a team game, though. We didn't do a good job of protecting our quarterback."
Croskey was a big part of CBA's effort on both sides of the ball. Besides scoring three touchdowns and gaining 186 total yards, Croskey had four of the Brothers' seven total sacks of Gallo.
"Frank Gallo is a good player," said Croskey. "We knew we had to get pressure on him."
"The defensive stuff is what I'm most proud of because Elliot is a big time player," said Burke.
Another big defensive play gave the Brothers the upper hand on Guilderland. On the Dutchmen's fourth play from scrimmage, Gallo launched a high pass towards his top receiver, Jake Smith. Smith leaped for the ball, but it bounced off his fingers and into the waiting hands of CBA defensive back Ben Anthony. A penalty against the Dutchmen set the Brothers up at Guilderland's 43-yard line.
(Continued on Next Page)
Prev Next
Vote on this Story by clicking on the Icon