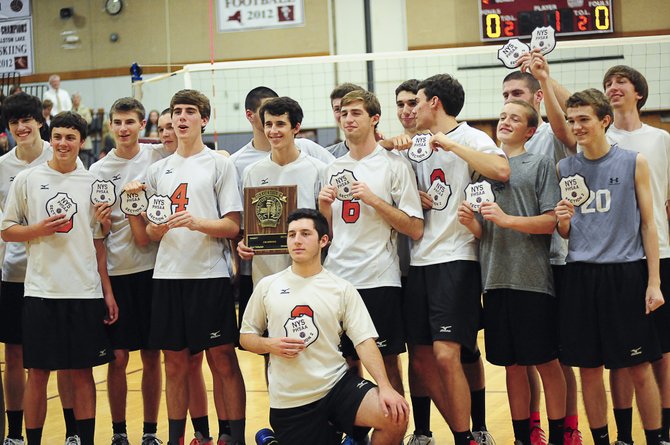 Burnt Hills — The record books will show the Bethlehem boys volleyball team swept Shenendehowa in three games to win another Section II Division I title. But, it wasn't easy.
The Eagles (24-1) rallied in the second and third games to get past the Plainsmen (16-6) 25-15, 27-25 and 28-26 to secure their fourth straight Sectional title and a berth in the regional round.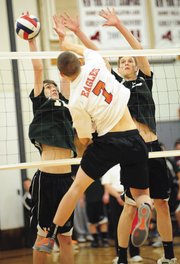 "It's an honor to take the Sectional win," said Bethlehem coach Jason Wood. "We've been trying to preach to the kids not to take anything for granted and take things one step at a time."
The Eagles were in danger of dropping only their sixth game of the season to a Suburban Council opponent when they trailed Shen 21-16 in the second game, but they scored 11 of the next 15 points to build a 2-0 lead in the match.
"The experience of what they've been through the last couple of years definitely helped us when we were down," said Wood. "They didn't panic at all."
Shen led for much of the third game, as well, but Bethlehem pulled ahead late to take it and the match.
Junior John Sica had eight kills and two service aces, and sophomore Aaron Carrk contributed seven kills and six digs to lead the Eagles. Kevin Cahill recorded five kills and two aces, while Kevin Mahar added 30 assists.
Photo Gallery
Bethlehem vs Shenendehowa Sectional Final: Photo Gallery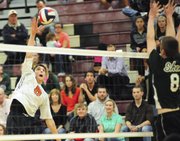 Bethlehem defeated Shenendehowa 25-15, 27-25, 28-26 in the Section II Division 1 Finals on Nov. 1. See the photos here.
Kolin Krebs had 10 kills, and Reid Hartl chipped in with 25 assists for Shen.
Bethlehem advances to next weekend's regional round. The Eagles meet the Section III champion in Friday's semifinal match at Burnt Hills-Ballston Lake High School, and the winner goes on to Saturday's regional final in Hudson against the Section I champion.
"It's a single-elimination situation from here on out," said Wood. "We have to take each match and each practice as seriously as we can."
The Voorheesville girls volleyball team is also a Sectional champion following a 3-1 victory over Broadalbin-Perth in Friday's Class C final at Stillwater High School. The Blackbirds won the first two games 25-17 and 25-12 before losing the third game 25-22, but they closed out the Patriots by winning the fourth game 25-21.
Caroline Bablin had 25 kills, and Tori Hargrave added 13 kills for Voorheesville, which moves on to next week's regional round.
For Photos of the contest Click HERE for the Gallery.
Vote on this Story by clicking on the Icon