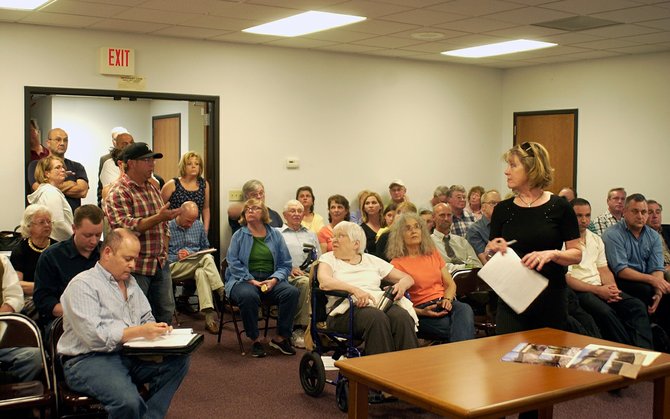 NEW SCOTLAND — Neighbors of a proposed 12-lot subdivision in New Scotland fear their existing drainage issues would only worsen with new construction, but town officials and the developer claim the opposite is true.
The crowd at the Tuesday, May 7, New Scotland Planning Board meeting overflowed into the hallway as residents turned out to express their concerns about the project at a public hearing. The 31.4-acre parcel in question is zoned Residential Agricultural and is near the corner of Picard and New Salem roads. MJ Biernacki Builders, LLC, owns the parcel and is seeking preliminary plat subdivision approval.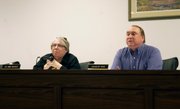 Planning Board Chairman Charles Voss moved to keep the public hearing open and extend it to the board's next meeting on June 4 because of the large turnout at the meeting.
"We heard a lot from the public, there is a lot of flooding concerns, and we have looked at this project from pretty much all angles," Voss said. "We agree there are flooding issues everywhere across the town … our job is to ensure this project does not contribute to that."
Stormwater stokes worries
Under the proposal, there would be two lots to the south of Route 85A, with the remaining 10 to the north of the road. Seven lots would face Picard Road and the remaining five would face New Salem Road. There is also a small parcel of land Mike Biernacki is negotiating with town officials to acquire. This wouldn't become another lot, but would be added to an adjacent lot.
Development would be limited primarily to an inactive cornfield. The project was scaled down from 15 lots to 12.
Joe Bianchine, of ABD Engineers & Land Surveyors and representing the developer, said the homes would be set back to "take advantage of the views" and only one of the dozen homes would be located in the wooded area. Driveways would cut through the wooded area. No federal wetlands would be disturbed.
(Continued on Next Page)
Prev Next
Vote on this Story by clicking on the Icon