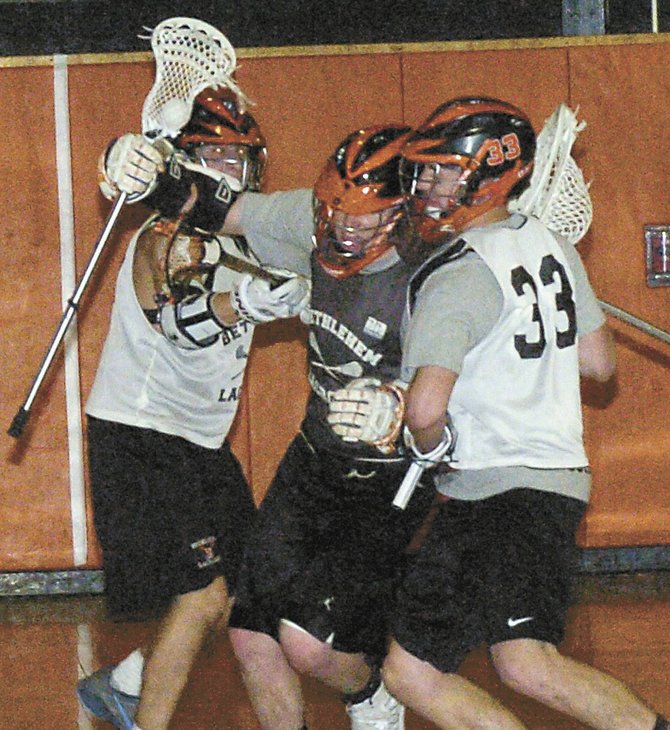 DELMAR — With maturity comes wins.
That's the formula the Bethlehem boys lacrosse team plans to use for the upcoming season.
Reader poll
Bethlehem 14%
Colonie 28%
Columbia 0%
Guilderland 9%
Shaker 49%
65 total votes.
The Eagles finished last season with a 3-13 record while relying heavily on a large group of freshmen and sophomores. One year later, coach Dave Rounds said that group of players have improved their skills. Still, Rounds said he has some concerns.
"They're definitely a lot further along than they were at this time last year, but you really can't substitute for senior leadership," said Rounds.
Senior leadership is in short supply for Bethlehem this year. Attackers Joe Verstandig, Adam Liebold, Tyler Bugbee and Nick Gosstola form the senior nucleus of the Eagles, along with midfielder Alex Merrill.
While the seniors should add a calming influence to the offense, Rounds said he is still seeking one or two players who will be the go-to scorers.
"I think we move the ball very well," said Rounds. "Where we struggle is we don't have that one guy who can go to the goal."
With goal scoring at a premium, Rounds said Bethlehem's defensive unit will have to step up in order for the Eagles to win games.
"Our defense is going to be the heart and soul of this team," said Rounds. "Our defense will keep us in games, and as our offensive players develop, we'll be better as the season goes on."
Anchoring the defensive unit is sophomore goaltender Dan Comber, who Rounds said is developing into a first-rate netminder.
"He is a legitimate college prospect," said Rounds. "He worked very hard in the off-season, and he's more vocal (with his defenders) this year. I think he's also feeling more relaxed out there because he has more experience, and the defense has more experience."
Helping Comber is a group of junior defensemen including Vincenzo Ferrara, Robert Santaski, Rob Wildermuth, Peter Wilkins, Zach Davis and Sean Spellman.
Bethlehem is scheduled to start its season April 2 with a non-league game against LaSalle. The Eagles' first Suburban Council contest is April 4 against Guilderland.
Vote on this Story by clicking on the Icon