BETHLEHEM — Bethlehem police have arrested an Albany man and fugitive after allegedly catching him in the act of burglarizing a Delmar residence.
Police on Wednesday, March 6, at about 12:28 p.m., responded to 5 Mason Road on a report of a burglary in progress and allegedly found Nuke T. Jennings, 28, in the garage. Police later found Jennings is a fugitive wanted in South Carolina and Colorado on charges that include burglary while armed with a firearm and armed robbery.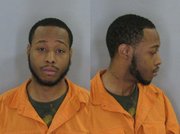 Jennings was charged as a fugitive from justice and with burglary in the third degree, forgery in the second degree, criminal mischief in the fourth degree and false personation. He was arraigned in n Bethlehem Town Court and remanded to the Albany County Correctional Facility. He was scheduled to appear in Bethlehem Town Court on March 11 for a preliminary hearing, and police said an investigation continues and additional charges could be filed.
Vote on this Story by clicking on the Icon