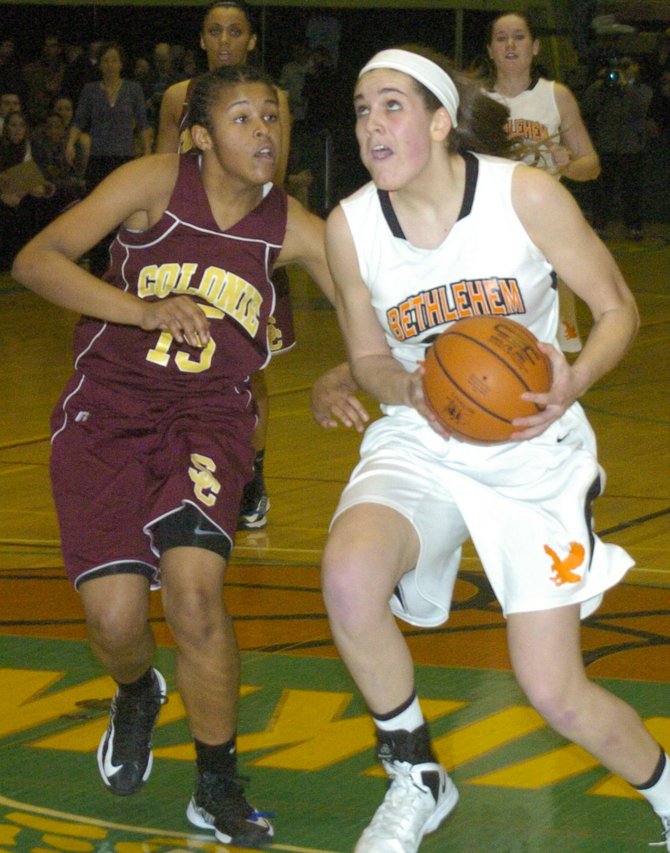 Bethlehem and Albany will make Section II girls basketball history Monday.
The two schools meet each other in the first Class AA final held at Albany's Times Union Center. The girls game is part of a doubleheader with the boys Class AA final between Troy and Green Tech.
"I think it's great, and I'm personally honored that Bethlehem gets to be part of the first girls final held at the Times Union Center," said Bethlehem coach Matt Bixby. "Girls basketball has grown significantly in this area, and I think this shows that the girls game is on equal footing with the boys game."
Bethlehem (20-0) enters Monday's game off last Wednesday's 44-40 semifinal victory over defending Sectional champion Colonie, while Albany (19-1) knocked off Shaker 47-41 in the other semifinal at Hudson Valley Community College.
Colonie (15-5) erased a nine-point deficit in the second half before Bethlehem pulled back in front on a basket from senior guard Bridget Murphy. Murphy and Kaylee Rickert each added clutch free throws in the final two minutes to keep the Lady Eagles in front.
"Honestly, (Colonie's comeback) didn't surprise me," said Bixby. "They're a very talented team and a very experienced team. What I was pleased with was the grit and determination we showed."
Sophomore forward Gabby Giacone had a double-double with 16 points and 10 rebounds for Bethlehem. Rickert contributed 12 points and nine boards, and Murphy added 10 points, seven rebounds and seven assists.
"My feeling with my whole team this season is that all of our kids have stepped up at one time or another," said Bixby.
Bethlehem will need another well-rounded effort to beat Albany in Monday's final. The Lady Falcons are led by Emia Willingham-Hurst, who averages more than 20 points per game, but they also get contributions from several players including Melissa Canty, Cara Waterson and Mylah Chandler.
"Just like any other opponent at this time of the year, Monday's game comes down to who plays their game better," said Bixby. "If Albany plays their game better, they will win. If we play our game better, then we'll win."
Vote on this Story by clicking on the Icon