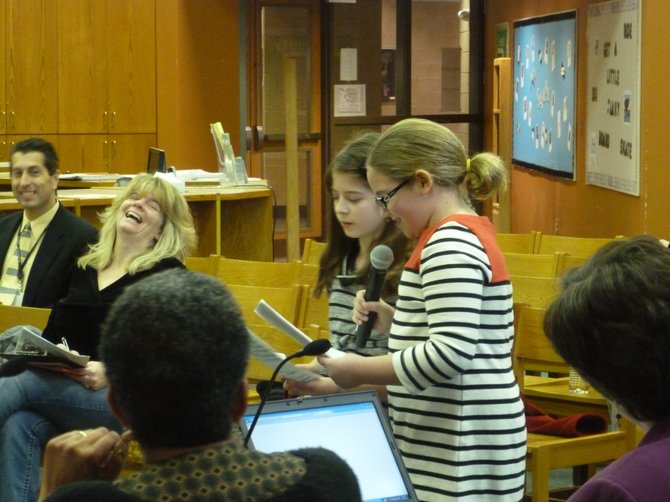 BETHLEHEM — A hushed silence fell over the room during the Wednesday, Jan. 23, meeting of the Bethlehem Central Board of Education, as two students from Eagle Elementary approached the microphone.
Fifth-grade students Ava Navarro and Cece Amory presented to the Board of Education their thoughts on why bottled water should be sold in their school and other schools in the district. The girls got the idea from Ava Navarro's mother, Caitrin Navarro, who is a member of the Bethlehem Board of Education.
"The girls felt really strongly about this issue, but didn't know what to do. I told Ava to write a letter to Dr. Douglas explaining how she felt and to ask to present the topic to the board, so she did," Navarro said.
According to the two young girls, with juice and milk being the only options in the lunch line, students with allergies are left with no options at all. The milk that students receive at lunchtime comes as part of their meal, with juice being offered to students who are lactose intolerant. Those students have to buy juice and sometimes they don't like it, Ava and Amory said.
"This is really wasteful and sometimes students don't want the milk so they just throw it away," Ava said.
The girls are not the only students who are concerned about the issue. Together, Ava and Amory wrote a petition and received 91 signatures from fellow Eagle Elementary students in various grades. They said only two students who were asked to sign the petition declined to do so.
The two girls not only expressed concern on behalf of their fellow students, but also explained why not offering bottled water has an impact on the environment. Amory stated that while milk cartons are only thrown out, plastic bottles could be recycled. Providing bottled water may only be a temporary solution, too.
(Continued on Next Page)
Prev Next
Vote on this Story by clicking on the Icon