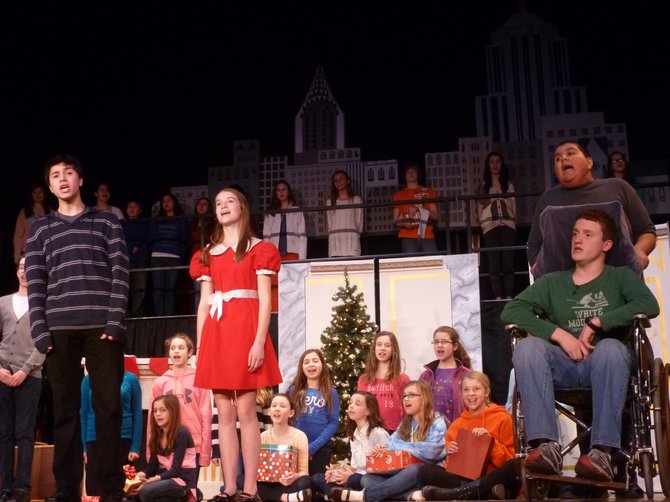 BETHLEHEM — Leapin' Lizards!
America's favorite redheaded orphan is coming to Bethlehem, and audiences have rarely seen such dedication from a cast.
This year's annual Bethlehem Central Middle School musical is "Annie Jr." and the production has leads Emily Furlong and Lucas Martinez making drastic changes to their appearances. Instead of wearing a wig, Furlong, who plays Annie, is dying her hair red and curling it herself. Martinez, who plays Daddy Warbucks, is shaving his head.
"They are doing this completely of their own volition," said high school Choir Director Jason Dashew, who is co-directing the production with wife, Lindsay Packard-Dashew. "They've really taken the musical to heart and said they wanted to make the changes, but we do have a wig available."
This is the first year the couple have directed the musical. Lynda Conway directed middle school productions for seven years with the help of Assistant Director Katie Daly. After they decided to step down, the Dashews took the reins.
Jason Dashew has worked at the district for 11 years, while Lindsay Packard-Dashew owns Broadway Bound, a Delmar acting camp for children. Jason said they decided to take on the job because they've been involved in the high school for so many years, it seemed natural for them to continue their work with the younger grades.
"It works as a good transition for the kids," said Lindsay. "It gives them a little bit of continuity between the middle school and the high school."
"Annie Jr." was picked because it's
a classic tale celebrating its 35th anniversary on Broadway. The "Jr." version is a bit shorter than the full-fledged theatrical version. But audiences shouldn't fret, because it still contains all of their favorite show tunes, from "Hard Knock Life" and "Tomorrow," to "Maybe" and "I Don't Need Anything but You."
(Continued on Next Page)
Prev Next
Vote on this Story by clicking on the Icon