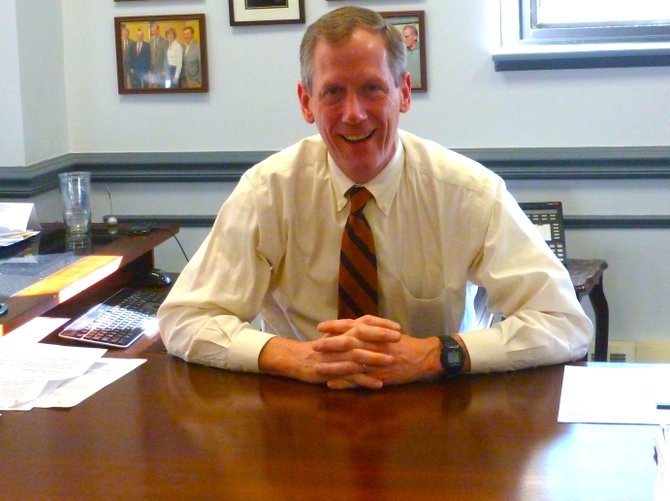 BETHLEHEM — As he prepares to deliver his second State of the Town address, Bethlehem Supervisor John Clarkson feels he has managed to accomplish the goals he laid out after taking office one year ago, despite a difficult budget season.
The first-term Democrat pointed to changes to the ethics law, a new sign law and a "responsible" town budget formed through the use of citizen advisory committees. He also touted the start of multi-year budget planning, a capital spending plan and a fund balance policy, while having what he believes was an open dialogue with citizens and town employees.
"When I began to run, I knew there was a tremendous financial problem facing the town. It wasn't well publicized but I knew of it because of my work on the 20/20 Committee," he said. "I talked about it during my campaign, so it wasn't a surprise. The bad news was we had a bad financial year, but the good news is we addressed it straight on."
Dollars and cents
The 2013 budget passed in a split vote in November, with board members Kyle Kotary and Joann Dawson voting against the plan and Jeffery Kuhn, George Lenhardt, and the supervisor voting in favor. The $37.9 million spending plan raised the property tax levy by 8 percent and cut spending by 1.8 percent. The budget also included a 7 percent decrease in staffing through attrition with the loss of 16 positions.
The budget gap was so significant because of the expiration of a 20-year Payment in Lieu of Taxes agreement with Selkirk Cogen. But Clarkson believes the situation was handled appropriately by asking for public input, using a citizens advisory group to go over options and by talking about the budget earlier in the year. The first budget estimates were released in April, when discussions normally begin in the fall.
(Continued on Next Page)
Prev Next
Vote on this Story by clicking on the Icon