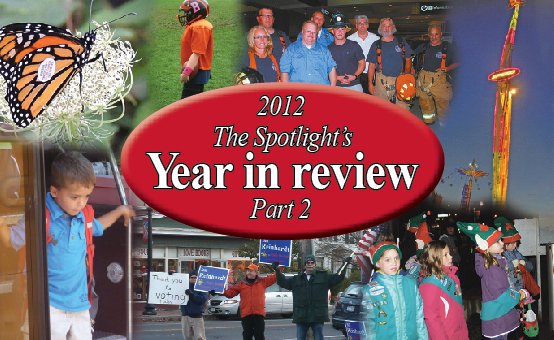 BETHLEHEM — July
• The Guilderland Town Board unanimously passes a ban on natural gas extraction within the town's limits in an attempt to preserve the "health, safety and welfare" of the municipality's residents.
• The Bethlehem YMCA receives a $7,500 grant through the Walmart Foundation. The money is put toward a summer camp scholarship fund and purchasing food to feed lunches to needy campers.
• Some Bethlehem Town Board members call into question the legitimacy of a Governance Options Study drafted by an advisory committee after subcommittee members say the final version doesn't match previous drafts. Board members say they heard concerns from members of the ward system subcommittee that the final report was changed to include recommendations from Supervisor John Clarkson and Deputy Supervisor John Smolinsky. The committee chairman says town supervisors usually take on an advisory role with committees, and oftentimes their suggestions are incorporated.
• Bethlehem's Del Lanes celebrates its 50th anniversary under the alley's third owner, Marvin Sontz. Del Lanes was opened in 1962 by John German during the golden age of league bowling. The facility has since been updated with more modern technology and recently underwent a $100,000 renovation of the snack and lounge area.
• Local business owners and New York Giants fans are excited for the team's return to Albany, after a league-wide lockout led coach Tom Coughlin to hold training camp in East Rutherford in 2011. Many local businesses saw a significant dent in revenues for 2011 after it was made clear area restaurants, hotels and coffee shops wouldn't be getting the patronage of Giants fans.
• Bethlehem police confirm the identity of a body found in a wooded area off of Route 9W in Selkirk. The body is identified through fingerprints as that of George W. Flannery Jr., 46, who was reported missing in July of 2011 by his sister in Florida. Flannery is believed to be deceased for six months before he was found and the cause of death is listed as "undetermined."
(Continued on Next Page)
Prev Next
Vote on this Story by clicking on the Icon