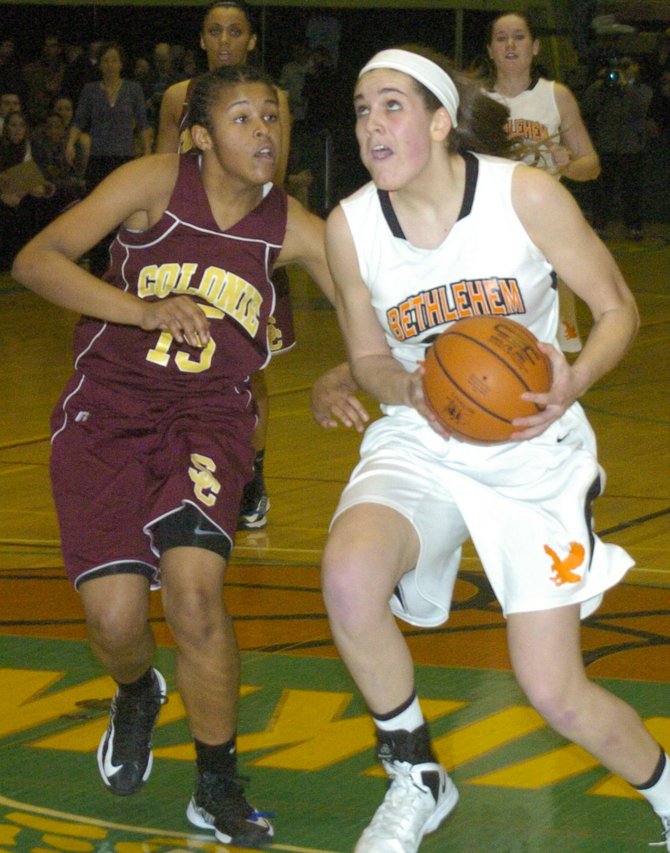 TROY — Gabby Giacone recorded a double-double to lead Bethlehem past Colonie 44-40 in Wednesday's Section II Class AA girls basketball semifinal game at Hudson Valley Community College.
Colonie (15-5) rallied from a 33-24 deficit in the third quarter to tie the score at 35 on Sydnie Rosales' three-pointer three minutes into the fourth quarter. However, Bethlehem (20-0) got a clutch basket from Bridget Murphy and key free throws from Murphy and Kaylee Rickert to fend off the Lady Raiders.
Giacone finished with 16 points and 10 rebounds, while Rickert contributed 12 points and nine rebounds for Bethlehem. Murphy added 10 points, seven rebounds and seven assists.
Rosales had 15 points, seven rebounds and three steals to lead Colonie. Jaclyn Welch chipped in with 13 points.
Bethlehem meets Big 10 champion Albany (19-1) in Monday's Class AA Sectional final at the Times Union Center. The Lady Falcons defeated Shaker (18-2) 47-41 in Wednesday's other semifinal game at HVCC.
Emia Willingham-Hurst had 21 points to help Albany reach the Sectional final for the second consecutive year, while Madison Rowland's 25 points paced Shaker.
Vote on this Story by clicking on the Icon