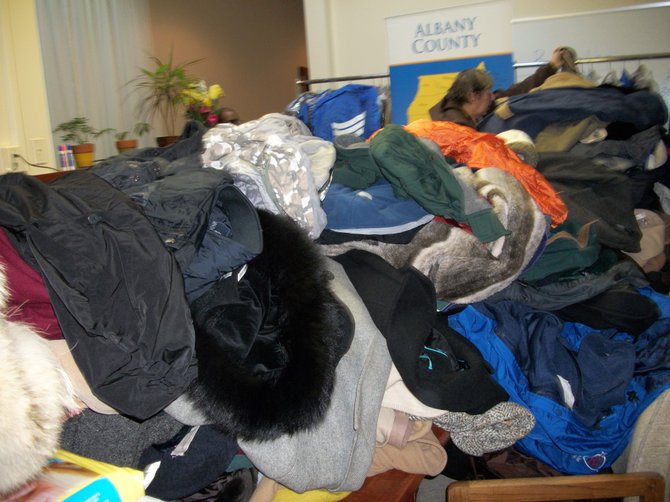 ALBANY COUNTY — Kaitlyn Drobne said she never knew how much joy could be brought to someone's face just by the gift of a winter coat.
"We don't realize what it means to have a coat and be able to stay warm throughout the winter. It's something people take for granted," said the 20-year-old from Selkirk.
On Thursday, Feb. 7, Drobne and Albany County officials distributed coats collected through the Katie's Koats initiative to representatives from the Homeless and Travelers Aid Society of Albany on Central Avenue. During the month long campaign, more than 1,200 coats were collected to be distributed to the homeless.
"It was absolutely breathtaking. I started to cry," said Drobne. "I never imagined we would get so many coats. It was really nice to see the community come together to help me and it made such a huge difference."
Albany County Executive Dan McCoy attended the event, as did Charles Burkes of the Albany County Veterans Service Bureau, HATAS Executive Director Liz Hitt and Best Cleaner's Co-owner Tim McCann, whose company offered to clean the items collected for free.
"Thank you to the generosity of Albany County employees, NYS Comptroller Tom DiNapoli's employees, EMS at Stuyvesant Plaza and other donors throughout the Greater Capital Region for helping out," said McCoy.
Drobne had the idea to collect coats for the homeless after taking a trip to New York City in the fall. She was surprised to see the number of homeless in the streets, many of them without warm clothing or winter wear.
When the Selkirk resident returned to her job working at her grandmother's restaurant in the City of Albany, she realized how many homeless people there are right in the Capital District. She said the sight "crushed her."
Drobne soon began a Facebook page to start asking for donations, but she had little luck. It wasn't until she began speaking with officials from Albany County who regularly dined at her grandmother's restaurant, PG's Café inside Albany County headquarters, that her efforts gained momentum.
In about a month's time, Drobne and her grandmother, Patricia Sadowski, had coordinated with the county to place boxes throughout the Albany area as collection places.
Drobne said now she will continue her efforts in the future, but she doesn't have a goal in mind.
"This, year, I just wanted get a few hundred donations," she said. "I won't have a goal for next year because I don't think there is a way to surpass 1,200 coats. It was a really amazing feeling."
Vote on this Story by clicking on the Icon