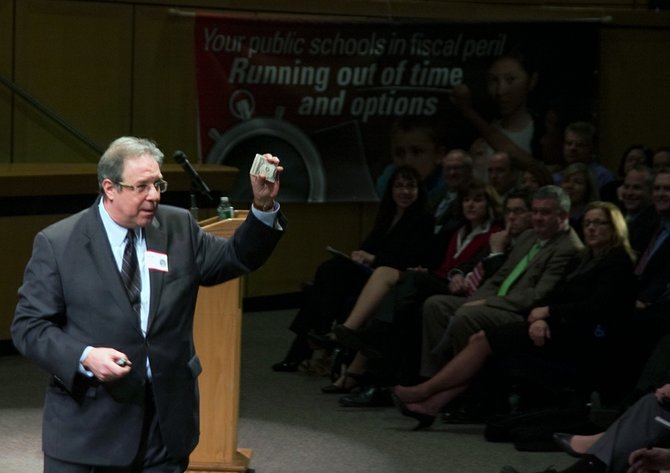 CAPITAL DISTRICT — Ask your local school representative how your district stands financially and they might compare it to a game of Jenga — the state keeps pulling funds, and the tower is about to topple.
Around 1,400 people on Thursday, Jan. 31, attended the regional event "Your Public Schools in Fiscal Peril — Running Out of Time and Options" featuring Statewide School Finance Consortium Executive Director Rick Timbs as the keynote speaker. Representatives from 49 school districts packed the auditorium at Columbia High School in East Greenbush, with an overflow room set up to carry a live stream of the event. Three area school superintendents spoke — Bob Horan of Schodack, Marie Wiles of Guilderland and Larry Spring of Schenectady — to shed light on rural, suburban and city districts respectively.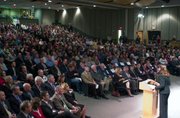 "The topic of funding public education at an equitable and fair level must be addressed if we desire to maintain an educational system that will graduate our youth with the knowledge to lead our country and compete in the world marketplace," East Greenbush Superintendent Angela Nagle said during her opening remarks.
Timbs joked he didn't expect a "Woodstock audience" and soon delved into a bevy of state funding data.
"I think we have tried to do those things to consolidate services and share, but it is becoming increasing evident that no matter how much we do that it really will not be enough to solve our fiscal problems," Timbs said.
The combined wealth ratio used to distribute state aid is inequitable, according to Timbs. Most area school districts are near or below average wealth level, which is 1.0, with the highest combined wealth ratio in the state being 45 times more than the average.
Timbs balked at the wealthiest school district getting state aid, while other districts are suffering because "they used all their money." Timbs said 100 or more school districts statewide would be fiscally insolvent in a year or two given current trends.
(Continued on Next Page)
Prev Next
Vote on this Story by clicking on the Icon