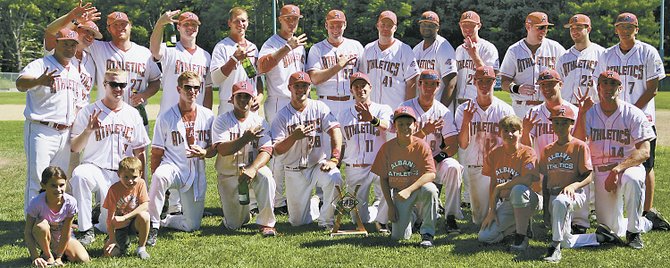 The Albany Athletics won its second straight North Atlantic Regional title, which resulted in another trip to the AABC Stan Musial World Series.
Unfortunately for the Athletics, they couldn't defend their national title. They dropped their first two games of the tournament, losing to the Lombard (Ill.) Orioles 11-5 and to the Northwest Wildcats (Tex.) 11-8.
"This was a great season, despite a tough ending in the World Series," said Athletics manager and Guilderland High School graduate Joe Altieri. "We made a great run through the regular season and postseason, and represented our league and region with class and pride in the World Series."
Albany trailed by nine runs in each of their two World Series games, but it staged a five-run rally against the Northwest Wildcats to get back into its elimination bracket game. Mike Allen's two-run triple capped the Athletics' rally. The Athletics collected 13 runs and 23 hits in their two games at the World Series, which gave them a tournament-best .303 average.
The Northwest Wildcats reached the championship game before losing to a Connecticut team that yielded two runs through its stay in the World Series.
Albany had an undefeated run through the North Atlantic Regional, one that culminated in a 16-4 victory over Twilight League foe Blue Slate in the finals. The score was 8-4 in the bottom of the fifth inning before the Athletics pulled away.
Albany survived an opening round scare against Westchester by scoring on an infield error in the bottom of the seventh inning for a 1-0 victory. The Athletics then defeated Blue Slate 8-2 and North Haledon (N.J.) 13-2 to reach the finals for the sixth time in team history.
Ballston Spa High School and Siena College graduate Kyle Baldani went 7-for-11 at the plate with five RBI to earn North Atlantic Regional tournament most valuable player honors.
(Continued on Next Page)
Prev Next
Vote on this Story by clicking on the Icon