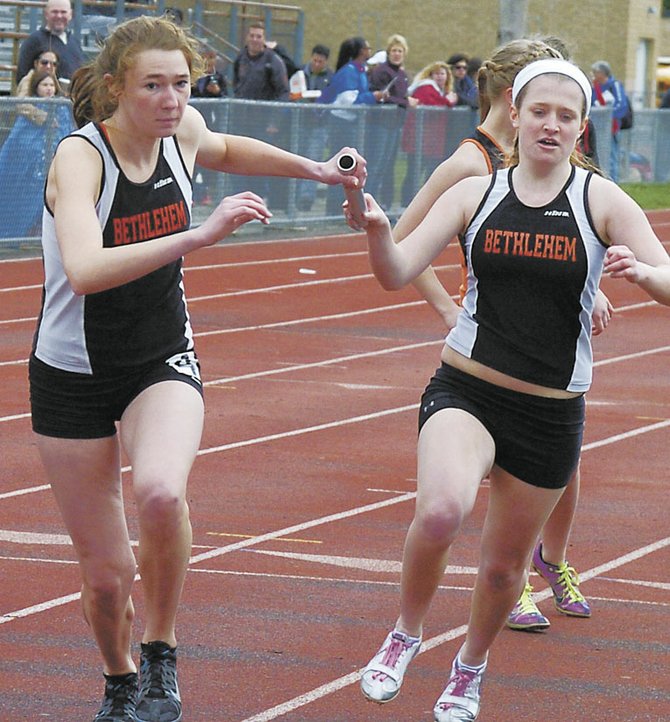 DELMAR — For once, the weather cooperated for the Fleet Feet Lady Eagles Invitational at Bethlehem Central High School.
Though clouds and wind were prevalent throughout Saturday's all-girls track meet, the weather wasn't brutally cold or wet as in previous years.
"We haven't had any tents blow away or torrential rain," said Bethlehem distance coach Jack Rightmyer. "It's been a good meet."
It was an especially good meet for the host school. Bethlehem claimed the team title with 126 points, 27 points ahead of runner-up Shaker. Guilderland placed fifth with 71 points.
"We did very well today," said Bethelehem head coach Tom Howley.
Bethlehem had one individual champion in Grace Smith. The sophomore won the high jump by clearing the bar at 5 feet, 2 inches in fewer attempts than Rome Free Academy's Dana Husband.
The Lady Eagles had several second-place finishes, including runner-up efforts from the 800-meter and sprint medley relay teams. The 800-meter relay team of Arnelle Thomas, Ellie Shuman, Carolyn Wagner and Gabriella Ferrera finished with a time of 1:51.12, two seconds behind Colonie. The sprint medley relay team of Wagner, Tori Trosset, Devin Jensen and Dainka Jensen finished with a time of 4:23.85.
Ferrera, Vicky Buehler and Maya Kassoff had individual second-place finishes. Ferrera was the runner-up to Colonie's Allyson Oertel in the 100-meter dash with a time of 13.31 seconds, while Buehler grabbed second place in the triple jump with a distance of 35 feet, 8 inches. Kassoff was second in the discus with a throw of 91 feet, 7 inches.
Abigail Marco led Guilderland with victories in the 100- and 300-meter hurdles. The junior finished with a time of 16.98 seconds in the 100 hurdles and claimed the 300 hurdles title with a time of 47.84 seconds.
The 300-meter hurdles and the sprint medley relay were among the unique events offered at the Fleet Feet Lady Eagles Invi-tational. The meet also featured a distance medley relay, 600- and 1,000-meter races and a freshman/sophomore division.
"I think that's part of the allure," said Rightmyer. "People like running different events."
Fourteen teams participated in this year's Fleet Feet Lady Eagles Invitational. Six Suburban Council schools sent teams to the meet, with the rest of the field coming from as far away as Plattsburgh, Rome and Onteora.
Vote on this Story by clicking on the Icon