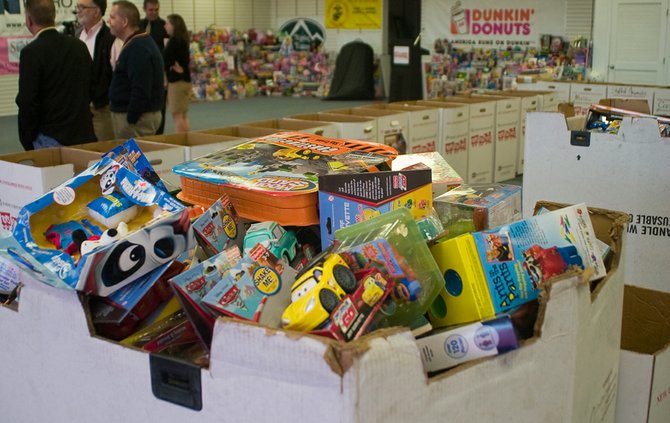 ROTTERDAM — There is a new conductor at the head of the annual holiday toy collection that has brought smiles to thousands of children.
The Marine Corps League kicked of this year's Toys for Tots campaign on Tuesday, Oct. 23, at its new home in Hannaford Plaza in Rotterdam. The collection program transitioned from the U.S. Marine Corps Reserve to the volunteer association comprised of enlisted and retired Marines following military budget cuts. The headquarters were previously located at the Marine Corps Reserve base in Glenville, but the transition meant a new location was needed to house thousands of donated toys.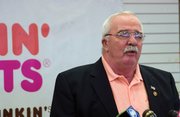 "The Marine Corps League and the retirees … don't want this program to die, so we jumped forward and we took it over," said Bob Becker, local coordinator of Toys for Tots, who has been active in the program for more than 40 years.
An outpouring of support helped ease the transition, which required even more funding from local businesses to continue operations.
"One week we had nothing and then at the end of the week we had people ready to step up and rock 'n' roll," said retired Gunnery Sgt. Albert Roman Jr. "Hannaford got my three different locations and this was the best fit for us."
Hannaford Supermarkets set up an arrangement with Nigro Companies, which is providing a 4,600-square-foot space to store donated toys. Hannaford is providing a tractor-trailer for overflow and additional storage.
Once again, Dunkin' Donuts is the program's main sponsor and is donating $30,000. The company has given $110,000 over four years.
Eric Stensland, field marketing manager for Dunkin' Donuts, applauded the Marine Corps League for continuing the program.
"For the past three years, I have had the distinct privilege of witnessing the unbelievable dedication aboard the Dunkin' Donuts Marine Corps Reserves Toys for Tots Train firsthand," Stensland said.
(Continued on Next Page)
Prev Next
Vote on this Story by clicking on the Icon