CAPITAL DISTRICT — Democrat Cecilia Tkaczyk can add the Green Party ballot line in her bid for the newly drawn 46th Senate District against Republican George Amedore.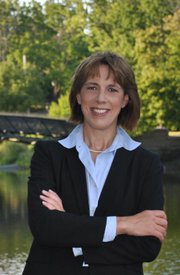 Similar to Tkaczyk's Democratic primary victory, she secured the Green Party nomination by receiving more than half of the votes, according to official election results from the state Board of Elections.
The primary for the party was an opportunity to ballot, which allowed party members to write in anyone's name. This led to results remaining unclear as the five county Board of Elections in the race tallied write in ballots and waited to see how absentee ballots totaled.
Tkaczyk garnered 23 votes and rose above second place finisher Thomas Dolan holding 10 votes. Monica Arias Miranda only fell one vote below Dolan. Neill Hammond garnered one vote, too.
There were some surprises with the official results.
Greene County Board of Elections officials previously told The Spotlight there were no write-in votes or absentee ballots sent out, but official results had Tkaczyk with three votes and Arias Miranda with one.
Ulster County Board of Elections had said Dolan secured eight votes, but official results totaled seven. Tkaczyk also rose from the unofficial total of six votes and held nine. Ulster County is where the vote for Hammond was cast.
The Schenectady County Board of Elections had declined to disclose who the two write-in votes were for, along with any information on absentee ballots, until results were certified. The two votes were cast for Tkaczyk.
Albany and Montgomery counties results remained unchanged from unofficial results previously reported by The Spotlight.
Tkaczyk will also be appearing on the Democrat and Working Families Party ballot lines.
Vote on this Story by clicking on the Icon