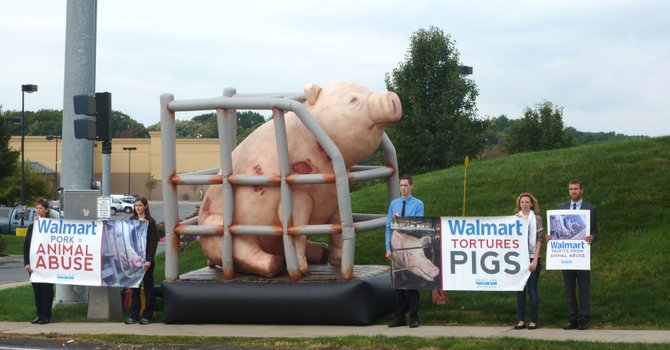 BETHLEHEM — Members of a national animal rights organization made their way to Glenmont in late September to protest the alleged abuse of pigs by Wal-Mart pork suppliers.
The group Mercy for Animals is touring the nation to speak out against the use of gestation crates used when raising pigs for slaughter. Members of the organization have already traveled to 45 stores near major cities to tell customers about their findings using "hidden-camera methods."
A small demonstration took place on Wednesday, Sept. 26, in front of Bethlehem Town Center plaza along Route 9W in Glenmont. Both local and national members of the group were in attendance, as was a giant inflatable pig locked in a small crate.
"We are asking Wal-Mart to take a stand against this egregious animal abuse and tell their suppliers to end the use of gestation crates," said Phil Letten, the group's national campaign coordinator.
Gestation crates, or "sow stalls," are small, metal enclosures used by many large pig farming facilities to keep pregnant, females pigs separate from one another. They are often extremely small, and do not allow the pig room for movement. Most animal rights groups view the practice as inhumane.
The Mercy for Animals organization would like Wal-Mart to ask their suppliers to phase out usage of the crates. According to the group, companies like McDonald's, Burger King, Chipotle, Safeway and Costco have all made similar requests of their suppliers.
"The practice of confining sensitive, intelligent, and social pigs into tiny gestation crates has been widely condemned by veterinarians and leading farmed animal welfare experts. Confining a pregnant pig inside a narrow gestation crate, where she is virtually immobilized, has been banned in nine U.S. states and the entire European Union," read a statement from the group.
The group claims to have gone undercover at a farm to secretly record the conditions at one of Wal-Mart's pork suppliers. The video has been posted onto the website walmartcruelty.com and is narrated by longtime animal rights advocate and former Price is Right host Bob Barker.
(Continued on Next Page)
Prev Next
Vote on this Story by clicking on the Icon