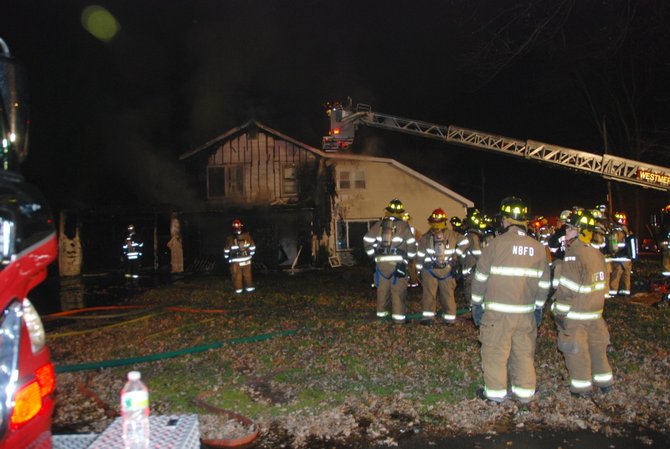 BETHLEHEM — Authorities are investigating a fire that broke out in a vacant home in North Bethlehem on Wednesday evening.
Fire officials responded to a fully involved house fire at 43 Monroe Ave. around 6:30 p.m. on Wednesday, Nov. 21. According to North Bethlehem Fire Chief Paul Fuino, the home was vacant and no one was found inside. The fire was said to be "heavily involved" within the garage and first floor of the home and crews worked to keep the damage from spreading into a neighboring home.
"This fire occurred while our firefighters were at the fire house for their weekly training drill," said Chief Fuino in a statement, which allowed officials to get to the scene quickly. "While we were concerned with putting the fire out in the structure of origin, we were also concerned with secondary exposure at the neighboring home and garage."
Officials said most of the fire damage was contained, but the second floor of the home also sustained fire damage. A neighboring home did sustain exterior heat damage causing "its vinyl siding to buckle and melt." The neighboring garage on the other side of the home where the which fire originated, also sustained heat and fire damage due to its proximity.
The fire was first discovered by a neighbor who called 911, according to Fuino. Officials said McKownville Fire Chief Russ Becker also came across the fire just before the fire departments were dispatched.
The North Bethlehem Fire Department was assisted by mutual aid companies from the McKownville and Westmere Fire Departments. The Fort Hunter Fire Company provided a rapid intervention team to assist the fire departments. Emergency medical support was provided by Albany County Paramedics and the Western Turnpike Rescue Squad.
Vote on this Story by clicking on the Icon