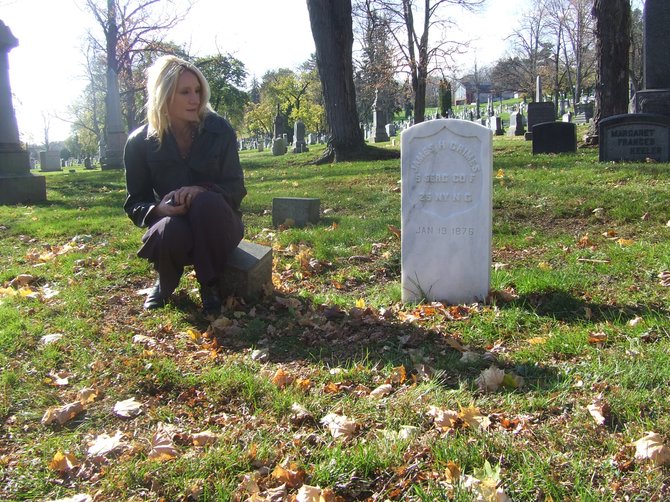 continued — Using records and section maps, Grimaldi walks around the cemetery sticking a metal probe in the ground, looking for the soldiers. She searches for hints of marble stone that over the years have sunken into the ground or have broken into pieces. With some volunteers, Grimaldi gets on her hands and knees, trying to pull out the 240-pound gravestones.
"I had a team of women, the oldest was 85 years old. We all worked together on hot summer days fixing gravestones. It was fun," Grimaldi said. "The 85-year-old … she was a pip. She would haul those graves out of the ground."
A minor setback to the effort came from the U.S. Department of Veterans Affairs. While new markers are free with $100 installation, a new requirement this year requires the soldier's next-of-kin to make the request for a new marble stone. But if no one comes forward as the next-of-kin, "then that soldier lays in an unmarked grave. It's terrible," Grimaldi said.
With the markers they can restore or replace, Grimaldi said they often have large ceremonies to honor the veterans.
Last year, Vietnam veteran John Mullen discovered he had a family member who had been in the Civil War buried in the cemetery in an unmarked grave. The grave was found and restored.
"I think Kelly's done a magnificent job. It's important to me personally because these men that received the Medal of Honor basically laid down their life for other veterans," Mullen, of Troy, said. "Men don't die in battle for medals and glory. They die for other men."
Funding has also run dry, Grimaldi said. The project received a $10,000 grant from the Bender Family Foundation and financial donations from several other groups, but things are now at a standstill.
"I have an entire section of excavated gravestones that are still laying flat because we ran out of money," Grimaldi said.
Even with the tremendous amount of time and effort the project takes, Grimaldi isn't giving up anytime soon.
"We just gotta keep it going," Grimaldi said.
To volunteer, see a list of the cemetery's Civil War veterans or to donate, visit www.capitaldistrictcemeteries.org/adopt_a_civil_war_veteran.html.
Vote on this Story by clicking on the Icon