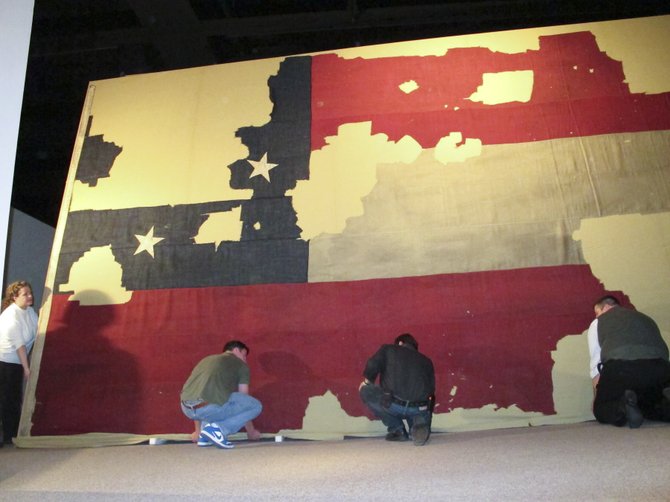 ALBANY — Col. Elmer Ellsworth's decision to rip down a Confederate flag during the Civil War cost him his life.
A native of Saratoga County, Ellsworth was the first Union officer killed in the war. Just 24, he took exception to James Jackson's decision to fly a massive Confederate flag atop his hotel, the Marshall House, in Alexandria, Va., in April 1861.
So Ellsworth decided to tear it down. He and a few others succeeded, but after capturing the flag, they were confronted by Jackson, who was armed with a shotgun.
A firefight followed, and Ellsworth and Jackson were both killed. The flag, however, survived. It was sent back to New York with Ellsworth's body, and it's now on display at the state museum in Albany as part of its "An Irrepressible Conflict: The Empire State in the Civil War" exhibit.
"As far as New York objects go, this is one of the big ones," said New York State Historian Robert Weible.
In fact, the flag was almost too big. The museum didn't have room to display it with the rest of "An Irrepressible Conflict" in Exhibition Hall. So the 14-by-24-foot flag is instead hanging in the nearby South Hall.
"It's enormous," Weible said. "You look at it and you wonder how (Ellsworth) could have brought it down."
That's been lost to history, but what's clear is this: Ellsworth, who was born in Malta and grew up in Mechanicville, was dedicated to the Union's cause.
Ellsworth had left Saratoga County for Illinois, where he worked in Abraham Lincoln's law office and struck up a close relationship with the future president. "He was very much Lincoln's guy," Weible said.
He became a tireless Lincoln supporter during the election of 1860 and accompanied him to Washington. When war broke out, Ellsworth returned to New York State to raise a regiment. Soon after, he was back in Washington, where Lincoln told him about the flag Jackson had hung. Word is it was visible from the White House.
(Continued on Next Page)
Prev Next
Vote on this Story by clicking on the Icon