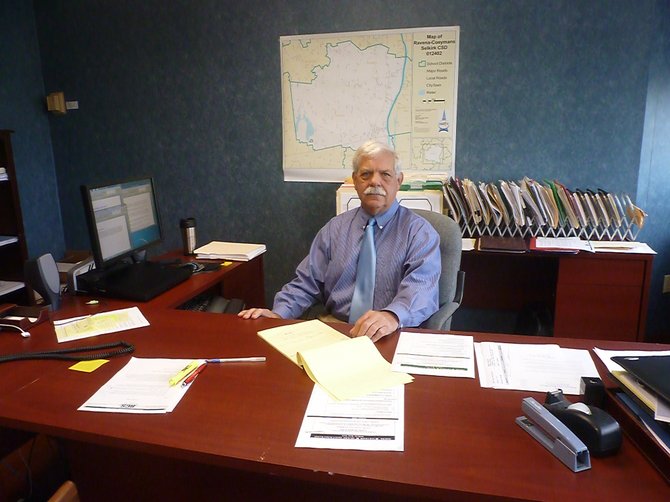 RAVENA — Alan McCartney is looking toward the future — and away from the past — as he steps into his new role as interim superintendent for the Ravena-Coeymans-Selkirk Central School District.
McCartney was narrowly voted into the position at a recent school board meeting on Tuesday, Oct. 9, but four of the nine school board members were against the idea of the former Voorheesville superintendent replacing Elisabeth Smith as head of the district. McCartney left his previous post after an audit from the state comptroller's office found he was misappropriating district funds.
Smith's last day as superintendent was Friday, Oct. 19. Days into the job, he spoke with The Spotlight on his record and what he hopes to accomplish in the troubled district.
"I'm trying to move forward," said McCartney. "The only way you can distance yourself fromanything is to accomplish the job you've been hired to do and so good, bad or indifferent, I have a ton of experience in this job. As I've told some people, this is not my first rodeo."
The 2005 audit found McCartney and his former assistant superintendent Anthony Marturano improperly paid themselves $216,000 for leave and other employment benefits. Another $11,500 was also found to have been charged to or reimbursed by the district for various "personal expenses," like hotel rooms, food, gifts and alcohol.
McCartney only paid back $600 at the time, including $357 he charged at a strip club on Dec. 17, 2004.
The Albany County District Attorney's office eventually decided not to pursue criminal charges, but the Voorheesville Central School District sued in an attempt to recoup some of the lost funds. In April of 2007, a settlement of $40,000 was reached.
McCartney called the incident "a contractual mess-up" at the end of his tenure with the Voorheesville district. He said the event caused a "storm" for his loved ones and instead of continuing to fight the audit's findings, he decided to back off for his family's sake.
(Continued on Next Page)
Prev Next
Vote on this Story by clicking on the Icon