CAPITAL DISTRICT — Ruth Henry was never a big fan of the subject of history. But when she decided to home school her three girls in 2003, she knew avoiding it just wasn't an option.
"You pick up the textbook, it weighs 40 pounds, you blow off the dust, you open to page 2,423 and by the time you get to the third paragraph everybody starts drooling and their eyes are rolling back in their heads," Henry, of Loudonville, said. "I just thought, 'Gee, there's gotta be a better way to teach this.'"
She didn't know it at the time, but Henry was about to introduce a new way of learning to dozens of homeschooled kids.
While looking for a more creative way to teach the course, she found a script online for a musical on the westward expansion. The witty storyline and engaging historic characters represented in a funny way — like portraying John Hancock as a graffiti artist – began to illuminate the dull history lesson. Henry was hooked. She bought several scripts from the company Bad Wolf Press, and was more excited than ever to show it to her students.
Henry collaborated with several other homeschooled families to create the first educational drama, "The Incredible Westward Movement." About 25 students worked on the musical and eventually performed it at the New York State Museum.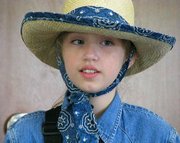 Though Henry didn't keep on homeschooling her own children, the history musicals inspired her to create DRAMAcademics, an educational youth theater, to work with other homeschooled students.
After only a few productions, Henry began writing her own scripts. In 2007, while traveling back and forth on the Thruway to visit her husband's business in Rochester, Henry said she felt very inspired while continuously passing the Erie Canal. On the drive she would create scenes and characters and record melodies on her cellphone, eventually writing "The Amazing Erie Canal."
(Continued on Next Page)
Prev Next
Vote on this Story by clicking on the Icon