SCHENECTADY — Even from when she was a young girl, Lee Woodruff said she's always wanted to write a novel. In fact, she finds it humorous that her first two books were memoirs.
"I had an imagination," said the Delmar native, who now lives in Westchester County. "Something always drew me to fiction."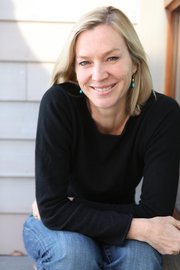 Woodruff's first book began as a journal. In 2006, Woodruff's husband, Bob, a news anchor with ABC, was injured by a roadside bomb while embedded with troops in Iraq. While he was in the hospital recovering, Woodruff began writing her family's story as a way to make sense of what was happening.
"I also knew my husband would want to know what happened after he recovered," she said. "As a writer, I wanted to get it down on paper."
Bob helped write the book, filling in his own perspectives and memories. Soon, "In an Instant" was a New York Times Best Seller. Woodruff's second book, "Perfectly Imperfect," was inspired by all of the stories that had been cut from the first book. They were eventually turned into a collection of humorous and insightful essays about family life.
For her third book, Woodruff has finally gotten around to that work of fiction, but it is still inspired by real-life events. As a correspondent for CBS This Morning and a former lifestyle contributor for Good Morning America, the beginning of the novel begins with a real phone call Woodruff once received. A young boy had been hit by a car driven by a teenage neighbor. The boy didn't make it.
"The driver of the car was my son's age, so it had an effect on me," she said.
"Those We Love Most" tells the story of Maura Corrigan, whose 9-year-old son is hit by a car driven by Alex, 17. Woodruff said the story is less about what happens to the boy and more about the development of relationships and "a family's resilience."
(Continued on Next Page)
Prev Next
Vote on this Story by clicking on the Icon