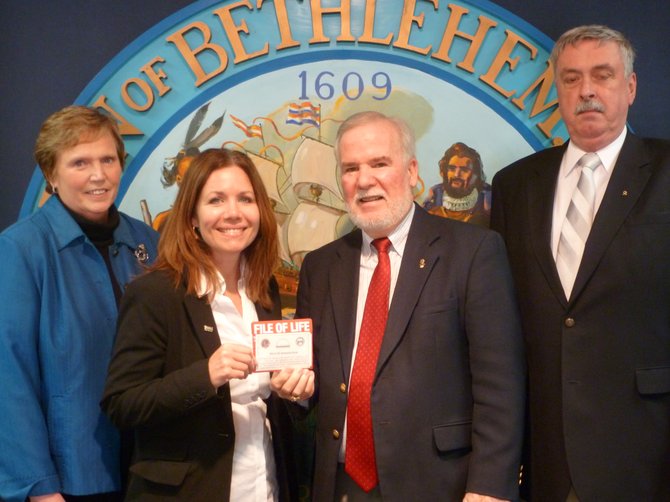 During medical emergencies, quick and accurate information is important to provide the proper care for patients, and it can mean the difference between life and death.
For the past five years, the Bethlehem Lions Club has been working with the town's Department of Senior Services to provide seniors with a small, plastic folder that holds all of their important medical documents. Called a File for Life, the red magnet can be placed on a person's refrigerator to be quickly seen by emergency medical personnel.
"It's important if a person can't respond to have everything in there that a doctor might need to know," said Director of Senior Services Joyce Becker.
The program enables medical personnel to learn a patient's medical history when the patient is unable to communicate or forgets to mention an important fact in the stress of the moment.
The File for Life is an adaptation of a program called Vial for Life. At one time, seniors were given plastic tubes to place their medical documents in and were asked to keep them in the freezer.
"But EMS would arrive and (the vial) would be frozen into the freezer and they couldn't get it out. This is the newer redesign with the refrigerator magnet," said Lions Club President Dan Ryan.
In 2005, the town, Lions Club and Bethlehem Senior Projects banded together to honor community volunteer Lion "Red" Goyer for his dedication to the neighborhood. Since that time the Lions Club has donated more than $5,000 toward the program, $3,000 in this year alone.
Ryan said the club prides itself in being able to provide for a community need.
"We feel since we raise they money here, it should be spent here, too," said Ryan.
The plastic pocket contains an insert to list all health problems, prescriptions, surgeries, allergies and other relevant information. The packet also comes with stickers to place on a window or door to notify EMS personnel that the resident has a packet inside.
(Continued on Next Page)
Prev Next
Vote on this Story by clicking on the Icon