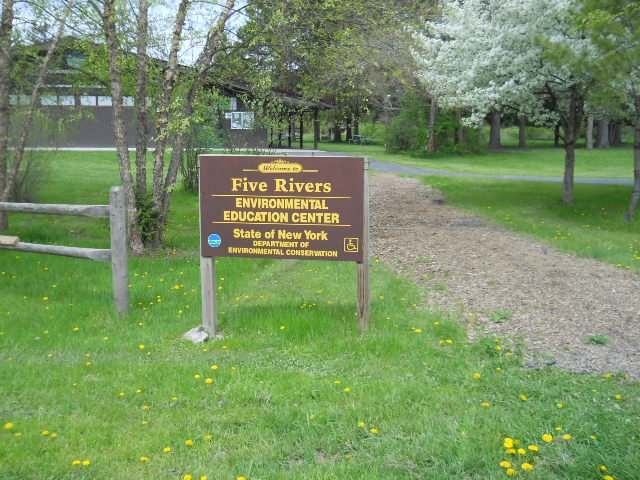 BETHLEHEM — For the past 40 years, the Five Rivers Environmental Education Center in Delmar has been working to teach Capital District residents about the importance of wildlife and environment conservation through its "outdoor classroom."
To celebrate the site's landmark anniversary, the state Department of Environmental Conservation is throwing a birthday party.
"We're promoting it as a good old-fashioned lawn party," said Five Rivers Executive Director Craig Thompson. "There'll be family activities, games and a birthday cake."
Originally, Five Rivers was known as the Delmar Experimental Game Farm. It was one of six operated in the state by what was once the Conservation Department to repopulate and study game birds. In 1941, the Wildlife Resource Laboratory began work on the grounds, and several years later "a game farm employee began to assemble a small menagerie of animals in outdoor cages." The site soon became known to locals as the Delmar Zoo, and for about 20 years, schools and families visited the animals.
"It was like a drive-through nature center so city people could see nature, but now the goal is to get people out to see nature and get immersed in it and educated," said Thompson.
After a time, the facility fell into disrepair. Thompson said the state was thinking of turning the site into a world-class zoo, but there was no money at the time so the research taking place on the grounds was curtailed.
In 1970, a not-for-profit corporation called Five Rivers Limited was formed to save the site. It is now known as the Friends of Five Rivers. The group worked to obtain federal grant money to turn the site into an education center.
"For four decades, Five Rivers Environmental Education Center has provided a special place for children, parents and students to connect with nature and learn the importance of stewardship of our natural resources," said DEC Commissioner Joe Martens in a statement. "Through the enduring partnership between DEC and the Friends of Five Rivers, hundreds of volunteers have enabled Five Rivers to offer high-quality educational programs for the community. We look forward to continuing to work with the Friends of Five River so future students have the same opportunities."
(Continued on Next Page)
Prev Next
Vote on this Story by clicking on the Icon