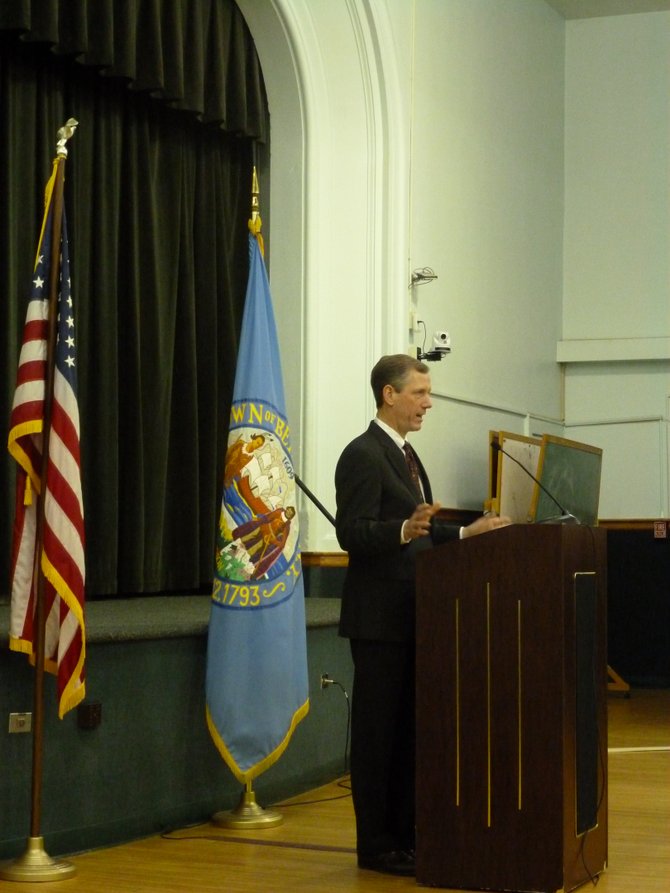 Supervisor John Clarkson feels the Town of Bethlehem should be a role model for the rest of the state when it comes to fiscal responsibility, ethics reform and politics.
In his first State of the Town address given at Town Hall on Monday, Jan. 30, Clarkson called Bethlehem a vibrant and thriving community, which is in "far better shape than most municipalities," despite significant financial challenges.
"It's the best place to live in the Capital District, a great place to do business, and I think we all feel that way," he said. "With great fortune, however comes responsibility."
Clarkson said Bethlehem now needs to lead by example.
"If we can't put together a sustainable budget that provides the services we need for the long term, I don't know who can. And if we in Bethlehem can't have engaging politics, I don't know who will, and if we in Bethlehem cannot create a model, modern local government that excels in every area, we should ask, 'Why not?'" he said.
The supervisor's agenda highlighted economic and residential development, the newly approved citizen advisory committees and senior issues within the town. He also spoke of the upcoming budget negotiations.
Clarkson said he would like to implement multi-year budget projections in order to be prepared for the deficits ahead and develop a specific policy for how to spend the town's reserves, naming what fund balance should be maintained. In April, the supervisor will also publicly present an estimate of the budget for the coming year; the budget is usually rolled out in the early fall.
"I think it's tremendously necessary. It's necessary we know the size of the problem we have, both for the Town Board and I and town staff as we start to look at options to reduce the cost of government, but it's also important for the public," he said.
(Continued on Next Page)
Prev Next
Vote on this Story by clicking on the Icon