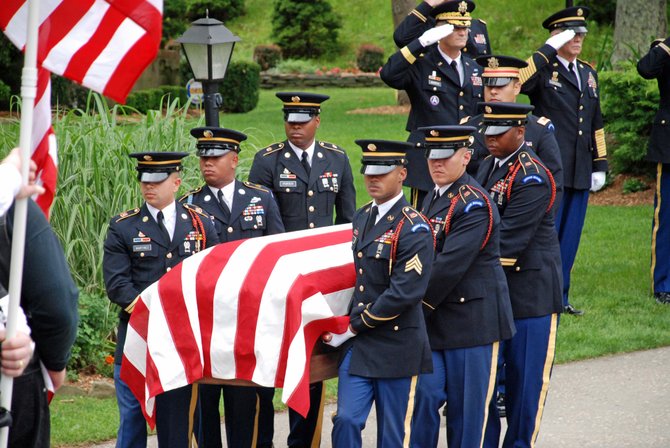 CAPITAL DISTRICT — In 2011, the New York Military Forces Honor Guard performed more military funerals than ever before.
As of Dec. 23, Honor Guard members had participated in 10,564 military funerals across New York in 2011, the largest number in a single year since it was created in 1999. Of 2011's total, 821 were military funerals held in the Capital District, and according to Don E. Roy, director of the program since 2003, about 90 percent of the year's funerals were for World War II veterans.
He said the jump in military funerals is not necessarily because more veterans are dying, it's that family members are realizing the option is available.
"People are starting to hear about us, and we are proud to honor those who served," said Roy.
Now that the World War II generation is dwindling, the Honor Guard is being called on to perform more and more military funerals for veterans of the Korean and Vietnam wars.
Having Honor Guard members on hand to pay a final tribute is not just a courtesy, it's the law. According to federal law, at least two Honor Guard members from the parent service of the deceased veteran must be present to play taps and to fold and present the flag to the next of kin.
Honor Guard soldiers go through a weeklong training program to learn the proper way to perform military funeral honors. There are 60 New York Army soldiers who work full-time with the Honor Guard and 70 who participate in funerals on a part-time basis.
Staff Sgt. Erwin Dominguez of the Capital District has been a member of the group since 2008 and has performed more than 600 military funeral details.
"The way they perfect everything; perfection is a big thing in the Honor Guard, how meticulous they are with their uniforms, how physically in condition they are," said Dominguez. "I wanted to do something better than just a regular soldier."
(Continued on Next Page)
Prev Next
Vote on this Story by clicking on the Icon