If you're looking for custom clothing created in an environmentally friendly manner and rooted in nearly 100 years of family history, look no further than Great 4 Image.
"We provide our customers with the latest in technologically advanced clothing and accessories and provide our customers with superior service that is unmatched," said owner Daren Arakelian.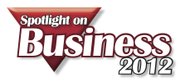 The clothing manufacturer is celebrating 12 years of business with new headquarters and the launch of an online store. It's known for decorating and screenprinting clothing items to order and providing corporate casual wear, team apparel, sportswear, fleece and outerwear.
"We make for large and small corporations as well as the federal government," said Arakelian. "Our specialty is made to order clothing."
Great 4 Image creates custom designs for everything from local sports teams to the U.S. Department of Defense and United States Air Force Academy.
"We also provide quick turnaround on popular items such as T-shirts and sweatshirts," said Arakelian.
The company produces close to 90,000 items a year, has about 30 employees and offices in Latham and Switzerland.
Arakelian said Great 4 Image doesn't have much competition because its success and legacy speaks for itself.
"My family has been in the clothing business since 1898 when my great-grandfather invented the buttonhole sewing machine," said Arakelian. "We have 100 years of experience."
The ability to create items according to customers' specifications and the company's commitment to eco-friendly manufacturing practices also sets it apart. Great 4 Image tries to save paper by communicating electronically as much as possible, recycling 100 percent of scrap fabric and using non-biodegradable packaging boxes made of 100 percent recyclable material.
Great 4 Image tries to maintain an active presence in the community. Recently, it sponsored elementary schools like St. Gregory's School for Boys and Little Leagues.
The online store will launch in mid-March at www.g4i.com. Customers will be able to see samples of items, complete with their custom logo, before ordering. The company is also currently running a promotion where every order receives a free stadium fleece blanket.

For more information about Great 4 Image visit www.g4i.com. The new headquarters where manufacturing happens is at 3 Airport Park Blvd. in Latham.
Vote on this Story by clicking on the Icon