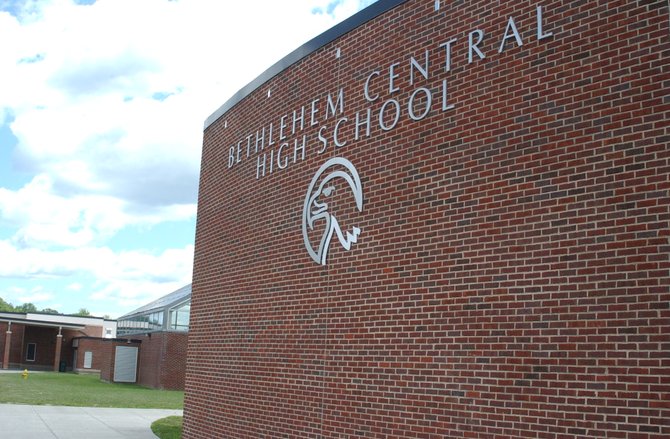 BETHLEHEM — The Bethlehem Central School District is projecting a deficit of nearly $4.4 million for the 2012-13 school year budget, even after factoring in the use of $1.75 million in reserve funds and a tax hike.
Under the state's tax cap law, the district would be able to raise the tax levy by 2.72 percent next year. To make a larger increase to the levy, 60 percent of voters would need to agree upon the rate instead of a simple majority.
The school district is projecting a tax levy increase of 2.72 percent into the budget gap figure.
School officials blamed unreliable state aid funding, contract and pension obligations and the newly implemented tax cap for the wide budget gap. According to the Chief Business and Financial Officer Judith Kehoe, the district will need to make up the funds from non-mandate areas like staffing and program reductions.
"About 75 percent of our budget is from salary and fringe benefits," she said, adding that additional cuts to staff will be exceptionally hard with the loss of nearly 60 positions over the last two school years.
The district would have to spend $91.5 million to maintain this year's programming in 2012-13, with approximately $22.29 million being provided in state aid as a conservative estimate.
Superintendent Thomas Douglas said the district lowered its expected state aid contribution for the 2012-2013 school, based on past years when district did not receive all of the promised aid. For the 2011-12 school year, $22.8 million in state aid was projected and only $22.2 million was received. For next school year, the Governor's Aid run is projecting around $22.7 million to go to BC, but a $22.3 million receipt is being planned for.
"It puts us in a better position if we project a more realistic estimate," Kehoe said.
(Continued on Next Page)
Prev Next
Vote on this Story by clicking on the Icon