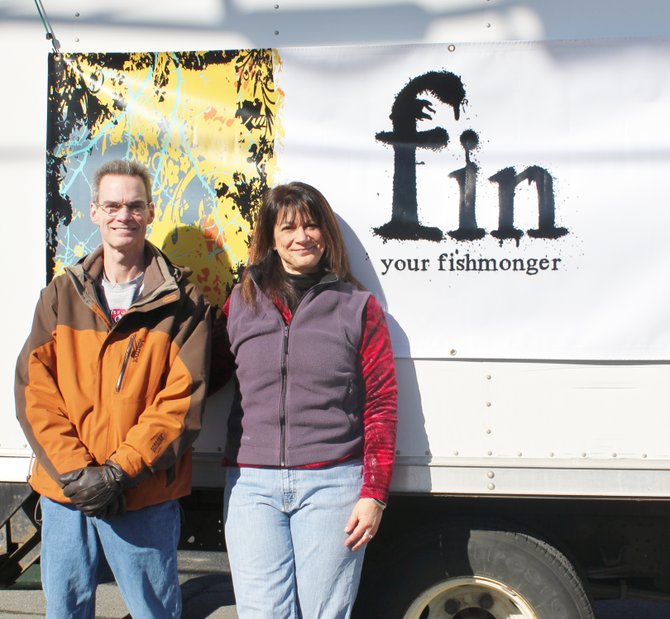 BETHLEHEM — Most people would feel uneasy about buying their weekly fish purchases out of a truck that set up shop in a parking lot, but one local couple is changing that with a fresh, sustainable product.
Since July, Peter Kenyon and his partner Dora Swan of Altamont have been selling fresh fish out of their large refrigerated truck at the Delmar Farmers Market, with help from their son-in-law Andy Scram. Since the market has closed for the winter, the Fin — Your Fishmonger truck has been parked each Saturday at the Philips Hardware on Delaware Avenue and the ConRel parking lot on Carmen Road in Guilderland.
Swan said she understands how the concept can seem weird to passersby and others just finding out about the unique business venture.
"People have seen us and had questions," she said. "We just tell them how fresh our product is and our philosophy on maintaining a sustainable population in the ocean, and give them a price list. They soon understand we're not just people selling fish out of a parking lot."
Kenyon said the venture started when The Cousins Fish Market in Albany closed in 2009. Scram was a head buyer and fish cutter for the market, until it went out of business and he lost his job. Kenyon himself recently left a job in the hotel and restaurant industry and was looking for something to do, so both men thought of trying to sell fish themselves.
"We didn't have enough capital for a full store, so we got a truck," Kenyon said.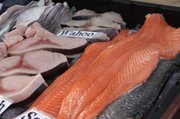 The fish is shipped straight from the docks of Boston three times a week to a refrigerated warehouse space the owners rent in Rotterdam. Scram relied on the fisherman and inspectors he formed relationships with while working at Cousins to send Fin a quality product. He also taught Swan and Kenyon how to tell the difference between good and poor quality fish, what they shouldn't sell based on fishing practices and if the fish were truly caught fresh or were farm raised.
(Continued on Next Page)
Prev Next
Vote on this Story by clicking on the Icon