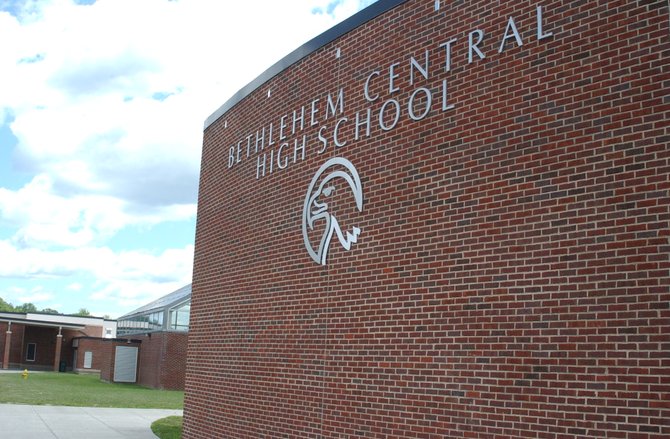 BETHLEHEM — A slim majority of Bethlehem Central Board of Education supported including plans for an artificial turf athletic field within a facilities bond at a recent meeting, but were careful to point out their opinions could change before the final resolution is passed in January.
On Wednes-day, Dec. 19, School Board President Diane Giacone-Stever asked board members to vote on the turf field issue. Four board members said they supported the $3.8 million plan, while two said they would support a turf field if it were presented to voters as a resolution separate from other projects. A seventh board member voted against it because of economic concerns.
"If I take away all of the emotions, and discussions and all of the passion, to me it comes down to the amount of money," said Charmaine Wijeyesinghe, who was against the project because the field could be fixed for less by sticking with grass. "We have asked everyone in the district to change to save money. We have elementary kids walking to bus stops, we have teachers going without aides and resources to save money. For me, this is a want versus a need."
Updated estimates have all facilities upgrades and repairs costing $17.1 million and the turf athletic field costing $3.8 million. There is also a figure added in for "soft costs" like labor and materials, which would make the grand total of a bond to complete all projects about $29.2 million.
Chief Business and Financial Officer Judi Kehoe said the district expects to receive about 70 percent aid on the project. The owner of an average $250,000 home could expect his or her taxes to increase by about $60 if a $25 million bond were passed.
Within the next two board meetings, members will decide on what projects should be taken out of the bond, if any, and set the total of the entire bond in order to place a referendum before the public in March. A public hearing will also be held in January.
(Continued on Next Page)
Prev Next
Vote on this Story by clicking on the Icon